Workamper News membership special helps raise funds for Grand Teton Association while providing a big bonus to members!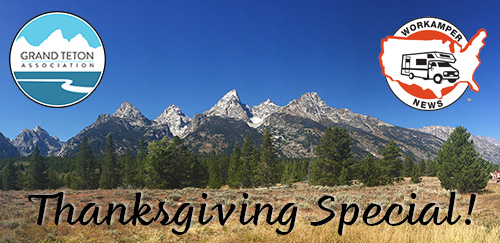 It is time for our 8th annual Thanksgiving special. Each year, we offer our biggest bonus with yearly membership along with taking a portion of membership sales and donating it to a non-profit organization. Together, we've helped to support people, kids, and animals. This year, we wanted to do something different.
Freedom of place is one of the most treasured benefits of the Workamping lifestyle. In 2023, let's come together to support one of our country's beautiful places – Grand Teton National Park.
$2 from every membership sale with the promo code THANKFUL23 will be donated to the Grand Teton Association. Not only are they a supporter of public lands, but of Workampers as well! They've been hiring Workampers for their busy summer seasons for 20+ years.
As our Thanksgiving gift, we will add 6 months to your membership when you join, upgrade or renew for one year at our Gold, Diamond or Platinum level.
Available to our Workamper and Employer members! Last day to use promo code is 11/30/23.
Enter the promo code THANKFUL23 and we will add 6 extra months to your one-year membership.
(NOTE: It may take a few days before the new expiration date is reflected on your membership account – this is a manual change and may take the staff extra time.
)
Thankful23 promotion applies to a one year Gold, Diamond or Platinum Workamper membership or Employer Gold membership purchased between 11/11/23 and 11/30/23 and submitted with the Thankful23 promo code. Cannot be combined with other offers. Members who already have an active membership are welcome to extend (renew) their membership. The 18 months will be added on to your current expiration date.
---
How to Join/Renew/Upgrade Your Workamper News Membership
If you are brand new to us:
---
If you are already logged in:
---
If you're not logged in yet:
Login to www.workamper.com here. Upon login, you are taken to the Dashboard with all of the orange buttons to the main tools and sections of the website.
Click on the blue Manage Account button in the upper right of the Dashboard.
Review your information. If anything needs updated, please click on any of the [edit] links, make your changes, and then click the Save button at the bottom.
Click on the link next to the expiration date link that says "(Click here to upgrade or renew your membership.)"
Go through each step to complete the process. Once successful, you'll have immediate access to the tools of your selected level of membership!
You are also welcome to call the Workamper News office and we'll be happy to assist you! – 800-446-5627, M-F, 8am – 4:30pm CT
---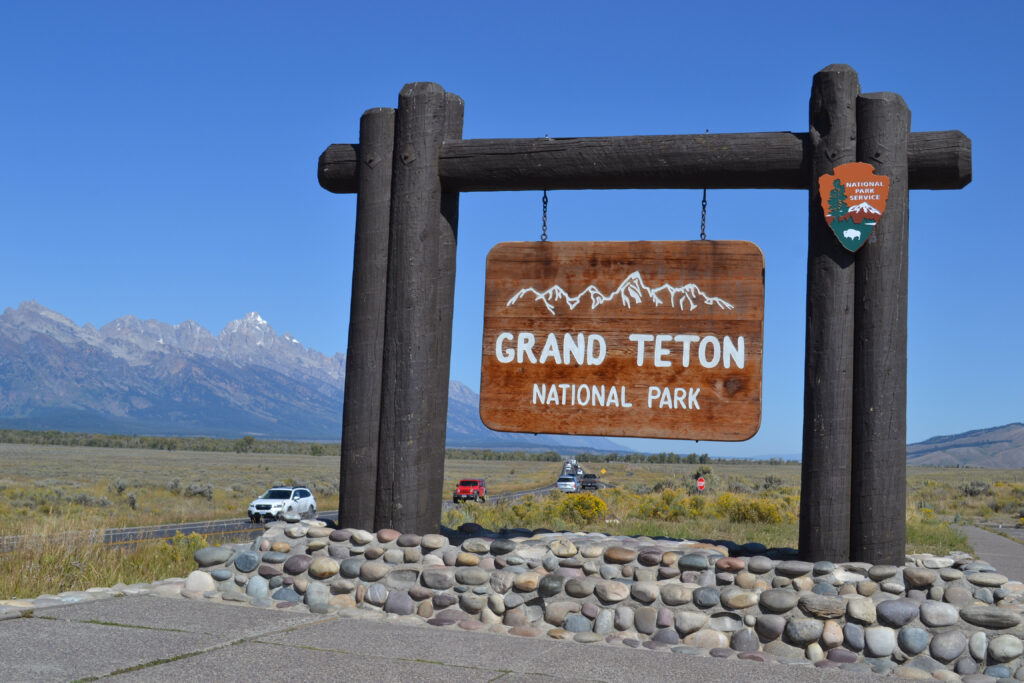 Workamper Membership Options
You Won't Find a Better Workamping Toolkit Anywhere
When it comes to learning about how to live a successful Workamping lifestyle and find the right jobs for you, no one does it better than Workamper News with our Diamond and Platinum member tools. We're not just a job listing service. When you put our tools into action, you'll find out just how easy it can be to turn your Workamping dreams into reality.
Why you may want these levels over others:
You want to customize the opportunities emailed right to you, and know about them immediately
You aren't interested in spending hours and hours surfing the internet to compile job listings
You want Employers coming to you!
You'd like to build a Workamper resume via an easy, step-by-step process
You want information from top experts in the industry at the click of a mouse
You like to continuously market yourself to employers to keep your Workamper schedule full
You want to research a Workamping job before you commit
You're interested in connecting with fellow Workampers and learning from them
You haven't started Workamping yet, but are a year or less away
The Diamond and Platinum level memberships open the door to the one-stop-shop for Workamping. Being the original resource for Workamping, you'll find the largest number of job listings here, be able to connect with the largest community of Workampers, and have compiled for you the knowledge of experts who have been in this lifestyle for years and years.
Most Diamond and Platinum members receive inquiries from their online resume soon after it being posted. The Workamper Experiences section has been piling up reviews since 2007. Each issue of our magazine in the archive has thousands of positions gracing the pages. Hotline Jobs are emailed right to you, for the states you're most interested in.
If you're serious about leading a successful and enjoyable Workamping lifestyle, a Diamond or Platinum membership is for you.
Awesome Applicants Resume Builder
Hotline Jobs (email & website page)
Job Alert Emails – receive new job postings for your select states
Workamper News Magazine Online Archive (100 issues)
75-word Situation Wanted Online Ad running for 2 months at a time
Member Map
Employer Tours
Praise Your Employer
Workamper Experiences (post your experience or research an employer)
Articles in the Article Index
Diamond/Platinum members-only content in Media Library (videos)
Workamper University online courses
Marketing 101 online training course
---
Platinum – $67/year
Who it's for: If you're an experienced Workamper who has completed one or more Workamping jobs – this one's best for you!
Everything mentioned above, plus, Workamper News will verify your Workamping work history on your Awesome Applicants Resume. Having third-party verified work history on your resume takes some of the leg-work off the searching Employer and helps move your resume to the top of the pile! And, you can take advantage of discounts on our Workamper Rendezvous event or our online store.
Diamond – $47/year
Who it's for: This is the most popular level. If you are new to Workamping or you are about 6-12 months from starting – this is going to be the best toolkit for you.
---
Also available –
Gold – $19.95/year
Who it's for: If you know you want to be a Workamper in the future, but you're a year or more from starting – this level offers tons of educational resources (articles, videos, & courses) to help you get your ducks in a row and start off successfully! You'll be able to see some help wanted listings by receiving the Hotline Jobs email, but the ads will be 7 days old. The online magazine archive can also be viewed.
---
---
Employer Gold Membership – $99/one year
It's the great jobs in great places that provide the catalyst for the Workamping world to exist. The purpose of this website is to provide employers with information, education, and direction about Workampers and the Workamping lifestyle. Our goal is to provide the tools for the employer to be as successful in recruiting, hiring, and managing Workamper staff as possible.
You will find a number of resources on this site available to the public; however, our most valuable tools are only available to members. Our unique Gold membership will allow you to take advantage of the following:
Discounted online Hotline ads of up to 100-words ($49/two weeks)
Unlimited searches in the Awesome Applicants Online Resume Database
Save, rate, and organize resumes in the database
Recruit from Situations Wanted ads
The entire "Develop a WOW Workamping Experience" online course
The online course "No More Mystery Dates" – Take the mystery out of hiring Workampers with this course!
Create/edit your Employer Tour to show off your Workamping environment
Hotline Jobs email & website page
Full archive of Workamper News magazine online
Access to Praise Your Employer tool used by Workampers
Access to read and post to Workamper Experiences Reviews
Submit advertising online
Review account information and advertising history
Informational articles in the Article Index
Members-only videos in the Media Library
This level is for the Employer who is ready to recruit Workampers and develop a steady Workamper program. A Gold Employer wants to have access to as many recruitment tools as possible and understands it takes more than just a "one and done" approach to develop a strong and successful recruiting plan.