Noun
Adventuresome individuals, couples and families who have chosen a wonderful lifestyle that combines ANY kind of part-time or full-time work with RV camping.
WORKAMPER® NEWS: YOUR #1 RESOURCE FOR JOBS FOR RVERS: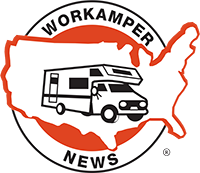 Welcome to Workamper® News – your complete and all-inclusive resource for your Workamping and seasonal employment needs!
We coined the term Workamper® in 1987. Back then it was mostly about finding jobs for RVers; which included part-time, seasonal and full-time positions with employers in all 50 states, featuring positions like Campground Host Jobs, RV Park Groundskeeping & Maintenance Jobs, Housekeeping, Reservations & Office work for campgrounds and RV parks looking to hire great people!
Since then, we've expanded not only in the size of our market, which now includes solo RVers, traveling couples, Workamping families, digital nomads, vandwellers and seasonal workers, to name a few; but also in the types of job opportunities we can offer the traveling community as a whole.
The Workamping community is growing and with this welcome growth Workamper® News is evolving to meet the needs of an ever-changing demographic of new travelers ready to hit the road and seasoned vets looking to expand their adventures with RVing jobs along the way.
So, whether you're a retiree who loves volunteering in campgrounds across the country, an RVer looking for income on the road, a young adult looking for a seasonal gig or just about everything in-between, Workamper News is here to help you via RVer job listings, Workamper® resume tools, employer reviews, educational resources, webinars, inspiration and so much more!!
www.workamper.com
[email protected]
800-446-5627 [8am-4:30pm CT, M-F]