Arizona is one of the most naturally-diverse states in America. From the Grand Canyon and red rocks of Sedona, to the giant cactuses of Saguaro National Park in Tucson to the mountain waterfalls in Tonto National Forest, Arizona is a beautiful state.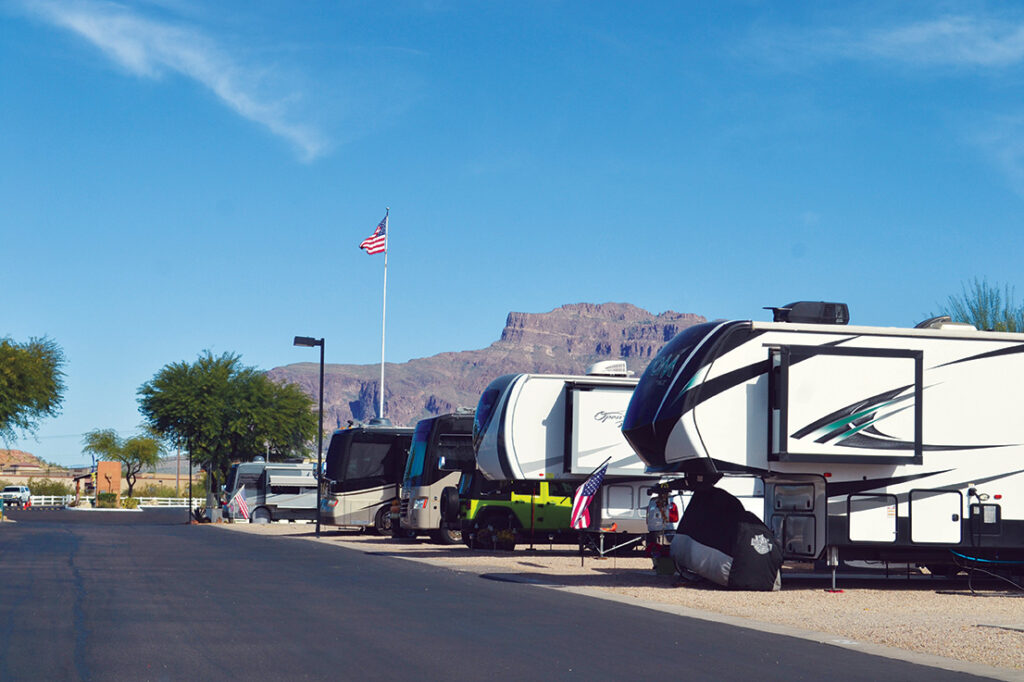 by Greg Gerber
Thousands of Workampers are hired every year. When they aren't working, they are hiking, kayaking, tubing, canoeing, rafting and biking. There are a plethora of state and national parks, monuments, quaint towns, wineries and restaurants serving authentic Mexican food as well as delicacies from around the world.
Arizona State Parks and Trails hires more than a dozen Workamping couples annually to serve as camp hosts at various locations. They live at the park and work in the visitor center, perform maintenance duties and provide customer service to park visitors.
To find other jobs, people can visit www.workamper.com where members can search the database at any time, read reviews, and post their resume. Most other Workamping jobs can be found in five main regions.
Workamping in Phoenix
Called "the valley" by locals, the metropolitan area includes the cities of Phoenix, Mesa, Scottsdale and Glendale. There are a lot of RV parks and large 55-plus communities in that area, which means the population swells considerably from October to April.
Baseball spring training draws a lot of visitors, but so does the Barrett-Jackson auto auction of collectable cars in January. The WM Phoenix Open in February attracts golf professionals from around the country.
Scottsdale has a reputation for having some of the best art galleries in the southwest. Famed architect Frank Lloyd Wright's Taliesin West trains students from around the world.
Phoenix boasts of spectacular botanical gardens and an adjacent zoo, but an even better zoo, Wildlife World, is located in the west valley. The Phoenix International Raceway plays host to a series of NASCAR events.
The Musical Instrument Museum chronicles the history of music around the world. People can also step back in time by visiting the Pioneer Arizona Living History Museum.
Cal-Am Resorts has 10 properties in the Phoenix area where Workampers help ensure guests enjoy a memorable visit.
Workamping in Northeast Arizona
This section includes the cities of Camp Verde, Flagstaff, Page, Payson, Sedona, Show Low and Winslow. It offers year-round recreational opportunities for residents and visitors.
The mesmerizing red rocks of Sedona are the subject of some awe-inspiring photographs and paintings. Many people visit the area for healing due to a unique vortex of swirling energy that leaves people feeling energized. The area is especially popular with hikers, horseback riders and off-road vehicle users. Pink Jeep Tours employs Workampers to take visitors on sightseeing tours.
Slide Rock State Park gets its name from the slippery rock formations that people use as natural water slides. The drive along highway 89A from Sedona to Flagstaff is one of the prettiest in the nation due to the red rock formations, towering mountains and forest vistas.
Flagstaff is a well-known Old West town located along the original Route 66 highway where it's still possible to see vintage signs and attractions. Pluto was discovered in 1930 at Flagstaff's Lowell Observatory.
Much of northeast Arizona is home to Native Americans, but people visit the Four Corners Monument which marks the spot where Arizona meets Colorado, New Mexico and Utah.
Lake Powell is a popular water recreation area featuring houseboats and pontoons for rent. Truly adventurous people can ride the rapids on the Colorado River.
Yes, it's possible to take a photo standing on a corner in Winslow, Ariz. – from the 1972 Eagles song "Take it Easy." Then head over to Meteor Crater Natural Landmark to see the impact of an object's collision with earth a very long time ago.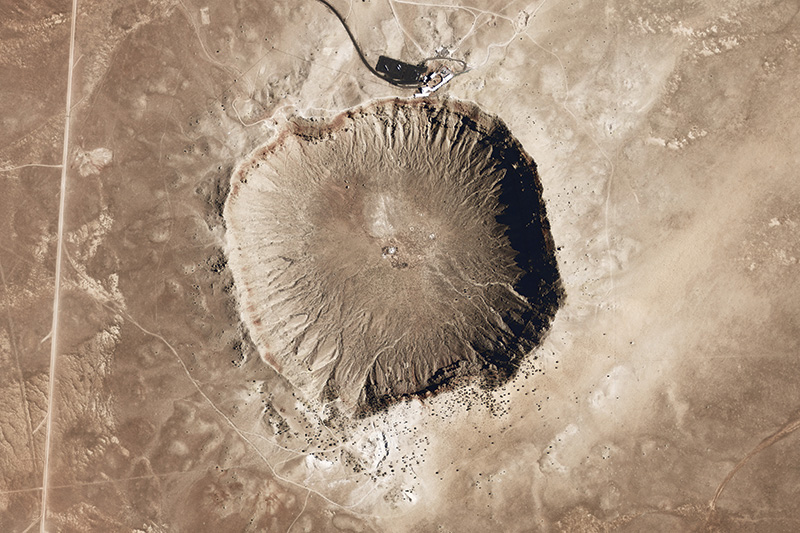 Recreation Resource Management hires Workampers for its Show Low Lake Campground in the heart of the White Mountains. Happy Jack Lodge often needs them at its facility among the cool pines of the Mogollon Rim. Rancho Verde RV Park hires two couples annually for its 40-site boutique park.
Workamping in Northwest Arizona
Scenic Route 66 continues through this region providing some unique opportunities for photos in Williams, Seligman, Peach Springs, Kingman and Oatman.
The Grand Canyon is the second-most visited national park where people can peer down the canyon from the visitor's center or hike to the bottom. It's fun to watch the canyon change colors as the sun moves, and snow adds another dimension to the experience. Companies like Aramark and Grand Canyon Conservancy hire a lot of Workampers every year.
Another way to view the canyon is from the glass Skywalk in Peach Springs, which stretches 70 feet over the rim and 4,000 feet above the bottom.
People can catch an old-fashioned steam train in Williams and ride it into the heart of Grand Canyon National Park. In winter, the Polar Express takes guests from Williams to the "North Pole" to meet Santa in a secret village.
Lake Havasu is home to the real world-famous London Bridge, which spanned the River Thames in the capital of England. It was dismantled piece-by-piece and reassembled to connect the City of Lake Havasu with an island.
Camp Civitan hires Workampers to care for its facility serving people with developmental disabilities.
Workamping in Southwest Arizona
This part of the state is extremely popular with boondockers who can park very inexpensively on U.S. Bureau of Land Management property.
The biggest cities include Quartzsite, which is the site of a large RV show every January; Yuma, a border town which housed lawbreakers in stone cells of the territorial prison; and Wickenburg, an old train town featuring a wonderful museum depicting Arizona's transformation into a state.
The Organ Pipe Cactus National Monument is located in a protected area of the Sonoran Desert. The Kofa National Wildlife Refuge features towering saguaro cacti and Gila monster lizards as well as big horn sheep.
Friendly Acres RV Resort needs Workampers to help with its nearly 400-site community catering to people over 55. Located on an organic medjool date farm, High Tanks Brewing Company seeks Workampers to help guests enjoy small-batch craft brews. Arrowhead RV Park often needs help at its two locations in this area.
The Bouse Chamber of Commerce hires a couple to work as caretakers for a small museum featuring pioneer living, mining and the Camp Bouse World War II Desert Training Camp. Stanford Inn uses Workampers at its bar, café and motel.
Workamping in Southeast Arizona
Because this region is also popular with snowbirds, there are more employers seeking Workampers in this region than any other in the state. It includes the cities of Tucson, Casa Grande, Benson and Bisbee. It's also home to one of the most famous Old West cities of all, Tombstone, where Deputy U.S. Marshall Virgil Earp shot and killed notorious outlaws during the Gunfight at O.K. Corral. Daily reenactments of that battle take place every day.
Saguaro National Park is divided into two sections on both sides of Tucson where visitors can marvel at giant cacti that are more than 100 years old.
Legend suggests a German immigrant discovered a mother lode of gold in the Superstition Mountains, but kept its location a secret. He revealed it to a trusted friend on his deathbed, but the mine's location was never verified. Nearby Roadhaven Golf & Tennis Resort hires Workampers to serve people looking for that treasure.
Take a sightseeing adventure along the Salt River aboard the Dolly Steamboat, or drive to Tortilla Flat, a tiny Old West town which today hosts several souvenir shops and a restaurant decorated by thousands of dollar bills left by tourists.
Kitt Peak National Observatory allows visitors to look through giant telescopes to view distant galaxies and other astronomical wonders. Butterfield RV Resort operates its own observatory where guests can search the Milky Way through its 16-inch telescope.
Bisbee is an old mining town that now hosts many art galleries as well as an annual blues music festival. People who want to test their physical stamina, can traverse a 4.5-mile course that includes nine staircases totaling 1,034 stairs.
Crazy Horse Campgrounds, Desert Springs Ranch and Rovers Roost SKP Park as well as De Anza, Mission View, SKP Saguaro, Sundance 1 RV resorts all frequently employ Workampers in this area to help make memories for guests by creating a "western" feel.
Located in Arizona's wine country, which ensures mild summers and winters, Lifestyle RV Resort hires Workampers to assist with its resort and fitness center.
Weather in Arizona
Because the sun typically shines 310 days every year, Arizona is popular among snowbirds who flock to the warm desert temperatures in winter months, which means it is also a mecca for Workampers seeking opportunities to get paid to play.
Ironically, Arizona has some impressive snow skiing areas around Flagstaff and the east mountain region.
The lower elevations, which are most popular with snowbirds, have typical desert conditions that get only a few inches of rain every year. That usually occurs during monsoon season, which is from mid-July to mid-September.
The best part about the lower elevations is that bad weather can be measured in minutes and inches. Whereas, in the upper elevations, storms can be measured in hours and feet of snow. Even when it rains, storms generally pass quickly. It's rare for inclement weather to span a full day.
From October through April, temperatures in lower elevations generally range in the in the 60s and 70s. However, nighttime temperatures can drop into the 40s. From May through September, temperatures can be a crushing 115 degrees during the day and remain in the 90s at night.
It's for that reason many valley residents escape to the upper elevations where daytime temperatures are in the 70s and 80s for most of the summer, but dip to the 50s and 60s at night.
Winter is a different story. In addition to regular snow, the temperatures are consistently in the 30s and 40s in higher elevations, but can fall into the teens and 20s at night.

Workamping Seasons in Arizona
Because the warm weather attracts lots of snowbirds, many people think Workampers are only needed during winter months. That's incorrect. There are plenty of jobs all year round.
For example, the Grand Canyon never closes. Companies like Aramark Destinations and the Grand Canyon Conservancy hire Workampers in winter months, too. Lake Powell and the Colorado River are popular tourist destinations during summer months, and the mountain campgrounds need more Workampers during summer months than they do in winter.
The primary Workamping season is winter. Most jobs start in October, after weather gets dicey in northern states, and end in April just after baseball spring training. The summer tourism sites want Workampers to start in mid-May before the Memorial Day crush of guests. That pace lets up after Labor Day in September, but spectacular fall weather keeps people visiting through October.
Frequently Advertised Workamping Positions
Here at Workamper.com, we annually have 4,000+ help wanted ads submitted by various employers. Listings include full- and part-time jobs as well as seasonal and year-round positions. Some managerial jobs require a commitment of two years or longer.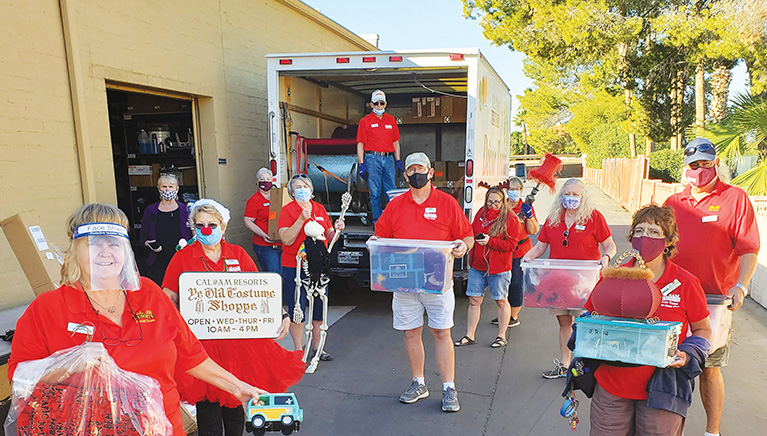 I won't list all the positions, but here are some broad categories of jobs awaiting Workampers who want to live and work in The Grand Canyon State:
Activities coordinator – Arizona has some of the largest RV parks in the nation, with some communities encompassing mor than 1,500 RVs, park models and manufactured homes. All those people come to Arizona to have a great time, which means many RV parks hire activities coordinators to plan things for people to do indoors and outside. Activities include Bingo, potlucks, dances, ice cream socials, classes, craft shows, shopping excursions, pickleball or shuffleboard tournaments, hiking and trail riding. Sunscape RV Resort in Casa Grande hires an activities director each year.
Animal care – Jobs like these are hard to come by, but they do exist. Workampers put in two to four hours a day cleaning dog kennels or livestock stalls and ensuring animals have food and water. They might also take dogs on walks.
Bus drivers – If you have a commercial driver's license and like working with all kinds of people, then you can find jobs year-round as bus drivers. Paul Revere Transportation hires drivers to shuttle visitors around the south rim of the Grand Canyon to help reduce vehicle traffic within the park. Some resorts also hire bus drivers.
Campground workers – The most popular Workamping job in Arizona is a general campground worker. These jobs are well-suited for people who like variety in their daily tasks. They may answer phones, sort mail, take reservations, check guests in at the front desk or help them in a retail store. They staff snack bars, rent equipment or mow lawns. Some clean restrooms and showers, or reset cabins after a guest departs. With resorts scattered around Arizona, Keith Management needs many campground workers.
Camp hosts – While similar to a general campground helpers, camp hosts are sometimes the only workers at smaller campgrounds, especially those managed by the U.S. Forest Service or U.S. Army Corps of Engineers. They assist professional rangers by monitoring activity and educating guests about park rules.
Farming – It's hard to believe that Arizona has farms, but the state does produce lavender, lettuce, spinach, cantaloupe, broccoli, cauliflower, cabbage and watermelon. Farms hire Workampers to help with chores or to staff produce stands.
Food service – This is another popular Workamping job. Workampers are involved in cooking, waiting tables, food preparation, serving ice cream, washing dishes and tending bar.
Gate attendant – Very large RV parks and tourist attractions hire gate attendants to sell admission tickets or ensure only people authorized people are allowed to enter. Workampers also remind visitors about speed limits and parking restrictions. Attendants may be involved in security, too, patrolling areas, locking facilities and reporting hazards.
Golf pros – Some 55-plus communities have their own golf courses for which they rely upon Workampers to manage the pro shop and check-in golfers. They may offer advice and recommend equipment as well as give lessons and organize tournaments.
Maintenance – People who like to tinker and are skilled at fixing things relatively quickly, can find jobs as maintenance workers. Workampers should be comfortable performing basic plumbing, carpentry and electrical tasks, or clearing clogs in septic lines. They are often involved in painting projects, too. Advanced skills to fix air conditioners, repair appliances or maintain pool equipment is a plus. Sometimes, facilities need temporary help where construction or heavy electrical tasks are performed by experienced, licensed tradespeople.
Management – Because managers oversee an entire business or various departments, multitasking and exceptional people skills are essential. Supervisors often work with people of all ages who are employees or customers. Managers are hired to oversee campgrounds, retail stores, food service operations, sales and maintenance departments.
Marina – Yes, Arizona has water. From lakes and reservoirs scattered around the state to the mighty Colorado River on the borders, there are lots of recreational opportunities for water sports. Marinas hire Workampers to rent everything from houseboats to kayaks. They also assist people in launching the crafts and securing them to a dock upon return. Deckhands wash down the equipment and refuel it for the next users. Maintenance workers tackle mechanical, structural and electrical challenges as well as problems unique to marine systems.
Museum work – Whether it is a living history museum, archaeological site or old-fashioned building containing relics and displays from a long time ago, Workampers greet visitors, sell tickets or souvenirs, and answer questions – lots of questions.
Pool workers – Workampers are hired to keep pools, lazy rivers, hot tubs, splash pads and saunas clean and operating correctly. Some are hired to serve as lifeguards, if they have training in that area.
Retail workers – Some general campground workers are involved with retail, but in Arizona, some firms hire people to work exclusively in stores. Workampers stock shelves, manage inventory, arrange displays and assist customers before checking them out.
Travel centers – Companies like Bowlin Travel Centers hire Workampers to assist people visiting the firm's gas stations, restaurants and roadside attractions. All the centers have convenience stores, while several also staff Dairy Queen restaurants.
Teachers – There are some jobs for people with teaching experience. Historical and nature sites hire Workampers to lead tours and work with school groups. Teachers are also needed to assist with an influx of migrants by training adults and children to speak, read and write English as a second language.
Unique jobs – There are some jobs that are so unique, they deserve a category of their own. For example:
Connoisseurs of stones, rocks and gems are employed at multiple Gem World locations to handle inventory, prepare displays and assist customers.
Aramark Sports and Entertainment hires Workampers for baseball spring training at stadiums near Phoenix. The firm hires cooks and people to work at various stands in addition to helping in the warehouse.
RV Wheelator, a company which trains people to become "wheel" estate agents to connect buyers and sellers around the country, is headquartered in Arizona.
Big Lake Tackle & Supply hires Workampers to assist people who love to fish, and help with rented kayaks, pontoons and motorboats.
Typical Workamper Compensation
Because the jobs are different, the compensation varies considerably depending on tasks performed, job location, level of experience and the time of year. Some jobs are paid positions ranging between $10 to $25 per hour (or even salaried for managers) with an RV site provided. Moreso in this state than some others, we see employers paying for all hours worked and offering an RV site at a discounted rate. There are also still opportunities to work a minimal number of hours per week in trade for an RV site. Often, perks are the same whether the position is paid or volunteer and may include:
Access to resort amenities, such as gym, pool, sauna
Bonuses for completing a seasonal commitment
Cable TV service
Discounts on store purchases or food
Electricity provided free or subsidized
Free propane or a monthly allowance
Laundry services, either free or a monthly allowance
Tickets to shows and special events
Uniforms
Use of golf cart or utility vehicle
Use of rental boats, kayaks, or other rec toys
WiFi service
Find a Workamping job in Arizona Today
You can easily connect with the largest quantity and widest variety of Workamping jobs in Arizona as a member at www.workamper.com.
The Hotline Jobs page lists the most recent help wanted ads. Members can search for jobs matching specific criteria, such as whether an RV site is provided, all hours are paid, solos are considered, and the job start date. Workampers can also use the Awesome Applicants Resume Builder to create a resume that entices employers to reach out with job offers.
As the original resource for Workamping, employer members from all over the United States are seeking Workampers to fill immediate and future positions that are short-term, long-term, seasonal, part-time, full-time, and everything in-between.
The Workamping lifestyle allows people to not only tackle their travel bucket lists, but stay in new places for longer periods of time and really get to know the food, culture and the people of the area while visiting local attractions, too.
There's no reason to sit idly when options exist to travel the country to keep the mind and body active. Get started Workamping today and discover exciting, new opportunities waiting around every curve, not just in Arizona, but every other state, too.
---
Thanks for reading the Gone Workamping blog from Workamper News. Join Workamper.com today to see all the new job opportunities for RVers, as well as the training and resources to confidently find the right Workamping job for you – easily and securely.