There are lots of wonderful Workamping opportunities every year, but only one truly "unbeetable" experience.
Each fall, Express Employment Professionals hires hundreds of Workampers to help with the sugar beet harvesting done by American Crystal Sugar Company, located in North Dakota and Minnesota, and Michigan Sugar Company, located in the thumb of Michigan.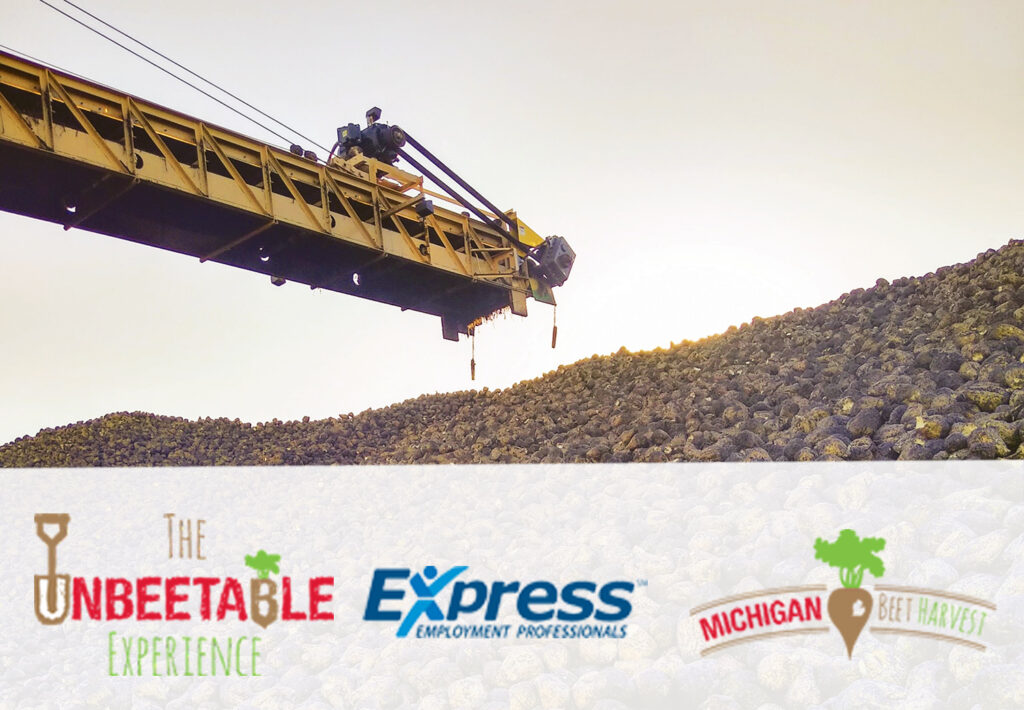 by Greg Gerber
"We are looking for 900 Workampers in Minnesota and North Dakota, and another 400 to work in Michigan," Alyssa Kaste, who owns Express Employment Professionals in Grand Forks, said.
When people think of "harvesting" sugar beets, there is often a misconception that they'll be in the fields with a pail and shovel digging beets out of the ground. That's inaccurate.
Although Workampers do work in all kinds of weather, they do so from beet receiving stations rather than the farmers' fields. Beets arrive by the truckload at piling stations where Workampers take samples from each load and set them aside for laboratory analysis to determine the beets' sugar quantity. The farmers' pay is based on the level of sugar in their produce. The higher the better.
When many people think of sugar products, they think of sugar cane grown in southern climates. In reality, nearly 60% of all sugar produced in the United States comes from beets. The product is also refined to create molasses and brown sugar. Beet sugar is sometimes preferred for baking because it creates a crunchier texture, Healthline.com noted.
Workampers are also involved in directing traffic on the grounds as trucks come and go. These employees are also responsible for keeping the grounds clear of beets that may have fallen off trucks, as well ensuring other obstacles don't impede the processing operation.

Some people are hired to operate piling equipment, which, as the name suggests, is used to create giant piles of beets for processing after the harvest ends. On average these beet piles are a quarter-mile long and 28 feet tall. The operator communicates directly with drivers to signal where to drive trucks and unload the beets.
Piler positions are offered only by audition on the processing site. Other jobs, such as operating skidsteers or telehandlers, are also available to skilled Workampers. A few people are assigned to work at scale houses where trucks are weighed full and empty to determine the size of each delivery.
A few supervisory positions are available to lead an entire crew of Workampers and local residents. Those positions, which require leadership experience, start a month earlier for extra training and planning to ensure the harvest runs smoothly.
All Types of Weather
Because the harvest takes place in fall, Mother Nature sometimes interferes. One day, it can be sunny and beautiful, but cold, raining and even snowing the next.
Workampers are still expected to work in all conditions because the harvest must be completed within a certain period of time to ensure optimum quality of the beets.
"People need to be prepared to work in all types of weather," Alyssa said. "Workampers will want to layer clothing, have a heavy coat, hat and gloves available to use during inclement weather. We only stop the operation for extreme weather."
The American Crystal Sugar beet harvest generally starts on Oct 1 and is a 10- to 15-day working season. The Michigan Sugar beet harvest generally starts on Oct. 15 and is an 18- to 21-working day season. Workampers are asked to make a 30-day commitment just in case weather does bring the operation to a halt and the season is extended.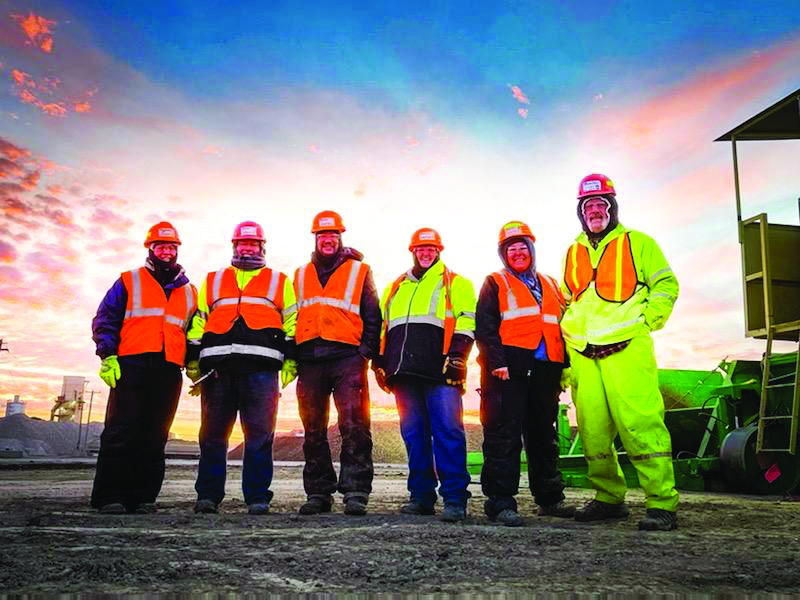 Hours of Operation
Workampers are expected to put in 12 hours a day, seven days a week for the 10- to 15-day season in North Dakota and Minnesota. In Michigan, Workampers are expected to work nine-hour shifts with the possibility of a 12-hour shift, seven days a week for the 18- to 21-day season. Shift times also vary depending on work location.
Most shifts include two 15-minute paid breaks and a 30-minute paid meal break.
Once the harvest starts, work continues non-stop until all beets have been processed. That means, in ideal weather conditions, Workampers could work all the working days in a row.
"Some people like an occasional rainy day just to have a day off, but most Workampers like to plow through the schedule and go on to their next assignments," Alyssa said.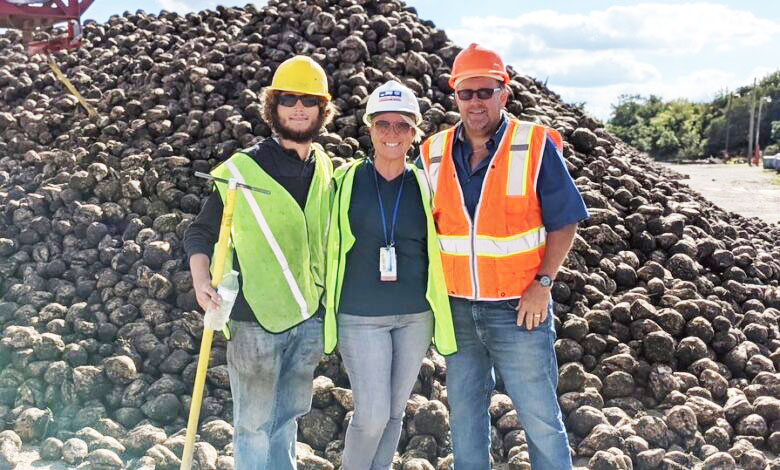 Special Qualifications
When applying for the job, a coordinator will go over specific qualifications for a particular site. However, the general requirements include:
Able to be on your feet for twelve hours a day
Able to bend and lift up to 25 pounds
"The job is strenuous for some people, but a lot of our workers are over the age of 50. In fact, they are often some of our best workers," Alyssa said.
Job Perks
All of the jobs are paid positions at wages starting at over $18 per hour, but that is dependent on the beet harvest location. For example, people working in North Dakota and Minnesota may earn up to $4,200 by working the full 14 days.
Express Pros works with 40 local campgrounds to accommodate Workampers with a free RV site located between two and 28 miles from their job site.
The RV site includes utility connections, when available. If water and sewer hookups are not available, then water is provided as well as honey wagon pump-out service.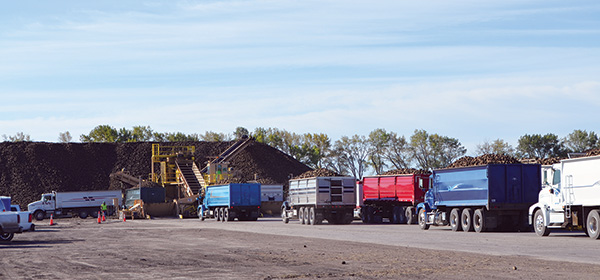 Things To Do
As the Land of 10,000 Lakes, Minnesota is a paradise for people who enjoy paddlesports and fishing. Most of the piling operations are spread out all over the Red River Valley of North Dakota and Minnesota.
In Michigan, the harvest takes place north of Detroit in the thumb of the state near Bay City. There are a plethora of museums available in Detroit, and Ann Arbor is home to the University of Michigan. Football fans can watch the Wolverines play in the 110,000-seat stadium. Toronto and Niagara Falls are both about 4.5 hours away.
In Minnesota and Michigan, there are often a lot of farmer's markets offering fresh produce, as well as small towns that are popular with antique shoppers.
Autumn is a splendid time to just drive along country roads admiring the multi-colored leaves or walking through wooded areas.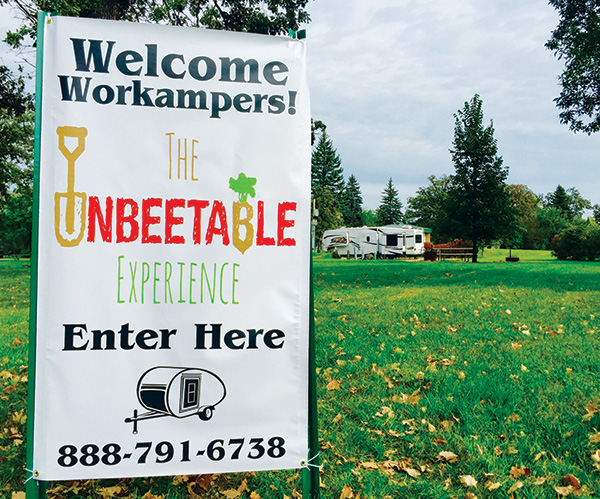 Apply Today
To apply for the sugar beet harvest, simply complete the online application form on their website.
Then a coordinator reaches out to schedule an approximately 45-minute conversation to go over specific job requirements with applicants, and answer any questions. If the job seems to be a good fit for everyone, a conditional job offer is made that outlines pay rates and starting dates.
"The only conditions are that Workampers must be 18 or older and must have documents to complete an I-9 form," Alyssa explained.
Once a Workamper accepts the conditional offer, hiring paperwork is sent electronically.
The offer letter indicates the date in which a Workamper needs to report for orientation. During that meeting, all the employment paperwork is finalized so the Workamper can report for duty a day or two later. The company communicates with Workampers consistently during the year.
Express Pros recruits Workampers all year long for the beet harvest. Alyssa encourages people to apply early so they can lock up a lucrative short-term job between their summer assignments and their winter positions.
For more information, visit www.theunbeetableexperience.com, michiganbeetharvest.com or give them a call at 888-791-6738.
---
Thanks for reading the Gone Workamping blog from Workamper News. Join Workamper.com today to see all the new job opportunities for RVers, as well as the training and resources to confidently find the right Workamping job for you – easily and securely.