Every week, new volunteer openings can be found daily in the Workamper News Hotline system. Many of them provide an RV site, a few perks, lots of gratitude, and a sense of fulfillment that transcends paychecks.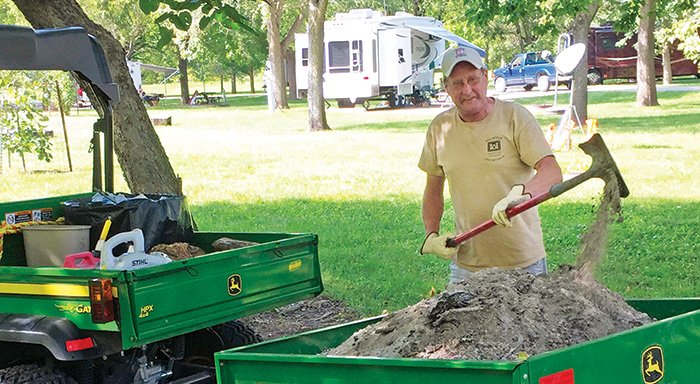 by Greg Gerber
Even by volunteering a few weeks between paid jobs, Workampers can make a huge difference to an organization and in the lives of others.
Here are a few recent and ongoing volunteer opportunities available to Workampers:
U.S. Army Corps of Engineers
The U.S. Army Corps of Engineers (USACE) has been using Workampers for decades in a variety of positions. Most USACE facilities are situated on lakes, rivers and reservoirs. Some don't have campgrounds, but they all allow visitors to enjoy trails, beaches, green space and boat launches during the day.
Some jobs involve serving as camp hosts, checking in guests and ensuring they get to the right RV site. They keep the common area free of trash and tidy up campsites after guests leave. Some locations give Workampers a golf cart or all-terrain vehicle to use.
Upon occasion, light mowing or handyman tasks, such as painting and maintaining equipment, may be needed. Or Workampers may staff a welcome center, maintain trails, collect fees or simply patrol the grounds to serve as eyes and ears of the ranger staff.
"A big portion of a Workamper's duties involve keeping visitors safe by reminding them of rules pertaining to life jackets, and of the need to keep hydrated while using the lakes," said Ranger Angela Erskine, who works at the USACE project at Buffumville Lake and Hodges Village Dam in south-central Massachusetts. "Workampers are not involved in any law enforcement-type activities. If a situation arises where that kind of help is needed, Workampers simply call rangers and ask them to get involved."
With USACE properties scattered across America, Workampers are needed on a seasonal basis and year-round. Solos are often hired, and couples can split time commitments. Typically, Workampers serve around 20 hours per week, mostly on weekends. In exchange, they get a free full-hookup RV site and discounts on services provided by on-site contractors offering rentals and concessions.
For more information about USACE, visit www.workamper.com/usace
Similarly, the U.S. Forest Service also hires Workampers to serve at campgrounds ranging from large resort-type facilities to small out-of-the-way locations. Information about those jobs can be found at www.fs.usda.gov/main/r2/jobs
Be a Chaplain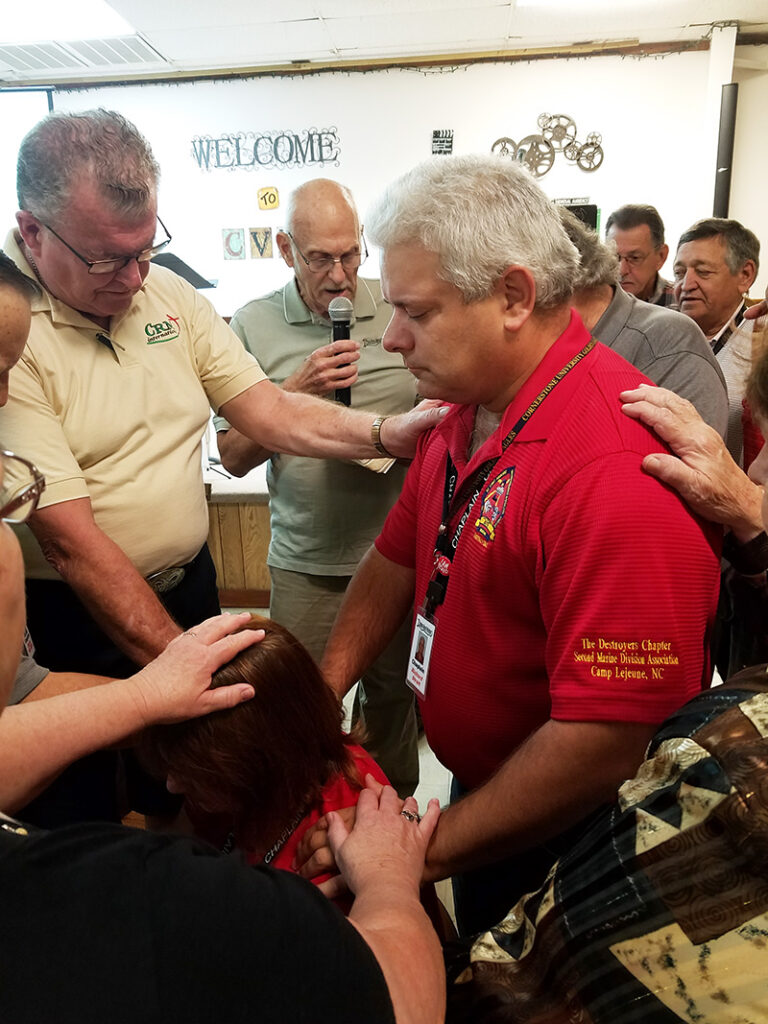 People of faith can serve as volunteers with Christian Resort Ministries, a Colorado organization providing chaplains to large RV resorts in southern states during winter months.
Many volunteers are retired pastors or lay people who have been significantly involved in their local churches. Chaplains lead weekly worship services and Bible studies as well as host family activities, like movie nights. Sometimes they organize potluck gatherings, visit people in hospitals or run errands for those needing help. They may even officiate at weddings and memorial services.
Depending upon the campground's size and how involved chaplains want to be, they can work 20 to 60 hours a week. Many times, the resort provides a free full-hookup RV site. However, an offering is taken at each service to help cover a chaplain's expenses.
"Many chaplains have worked in ministry for much of their lives and, therefore, may not have the retirement funds to be able to winter in warmer climates," former CEO Robert Ruesch explained in a 2021 podcast. "This opportunity allows chaplains to continue pursuing their callings while serving as non-denominational faith leaders at a resort community a few months every year."
For more information, visit www.crmintl.org.
Build and Renovate Homes
Workampers who have construction skills and a desire to help others, can find work at several organizations.
Members of Habitat For Humanity's RV Care-A-Vanners group help build lower-cost homes which people later buy.
There are 1,200 Habitat For Humanity affiliates in American communities of all sizes. While groups in larger cities often don't have problems attracting volunteers, the RV Care-A-Vanners make a big difference by bringing volunteer labor to smaller communities. The projects are short-term in nature where help is needed for a week, month or a season.
Many Care-A-Vanners are full-time RVers who take advantage of free or low-cost RV sites volunteers receive for participating in a project. A few affiliate sites build so many homes that there is a constant need for volunteers, so a private RV park is built to accommodate them.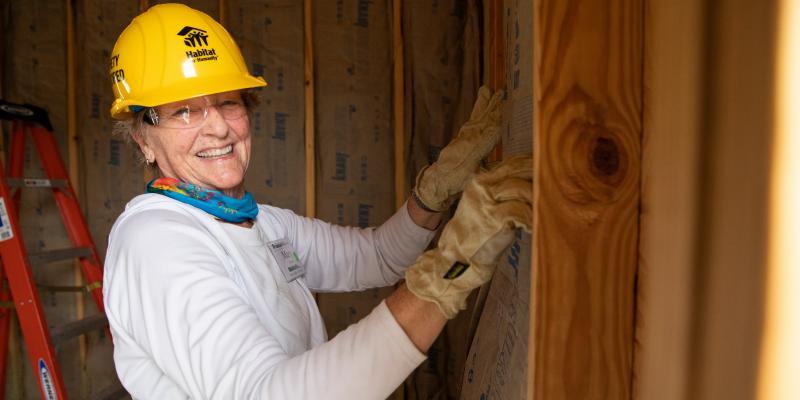 "Some volunteers stay in one area for a while so they can participate in multiple home builds. It's a good way to reduce RV expenses while still enjoying an opportunity to explore the area," said Daniel Banks, a Workamper who has been helping, along with his wife, since 1993.
Volunteers don't need experience in any trade. They show up at a scheduled job site and will be trained on what to do and how to do it. Tools are provided or volunteers can use their own OSHA-approved equipment.
To find projects needing Care-A-Vanners, visit www.habitat.org/rv.
At another opportunity, there is an ongoing effort to help residents of New Orleans recover from the devastating impact of Hurricane Katrina in 2005. When a levy broke, a 25-foot wall of water swept over a neighborhood where more than 60% of residents lived in poverty. Thousands of buildings were damaged and some people are still waiting for their homes to be rebuilt or renovated.
In addition to construction skills, Laura Paul, executive director of lowernine.org, said Workamper volunteers can also help with office administrative tasks and at the group's food bank. Work is performed year-round and volunteers can spend a few weeks or a few months helping out.
For more information, visit www.lowernine.org.
Preserve Nature
The Nature Conservancy is a non-profit organization active in all 50 states to protect and maintain natural areas. Volunteers perform maintenance services or work directly with guests to answer questions. They can also lead people on guided walks.
In a recent podcast episode, Virginia Hamilton, an outreach and volunteer specialist, was looking for volunteers to help at Tiger Creek Preserve, a 5,000-acre nature area which is located south of Orlando, Fla. Workampers serve as ambassadors acting as eyes and ears of the staff.
They greet guests and answer questions about plants or animals in the preserve that aren't found anywhere else in the world. Singles and couples receive a free RV site in exchange for 16 to 20 hours of service per person.
Information about volunteer opportunities in all states can be found at www.nature.org/en-us/get-involved/how-to-help/volunteer.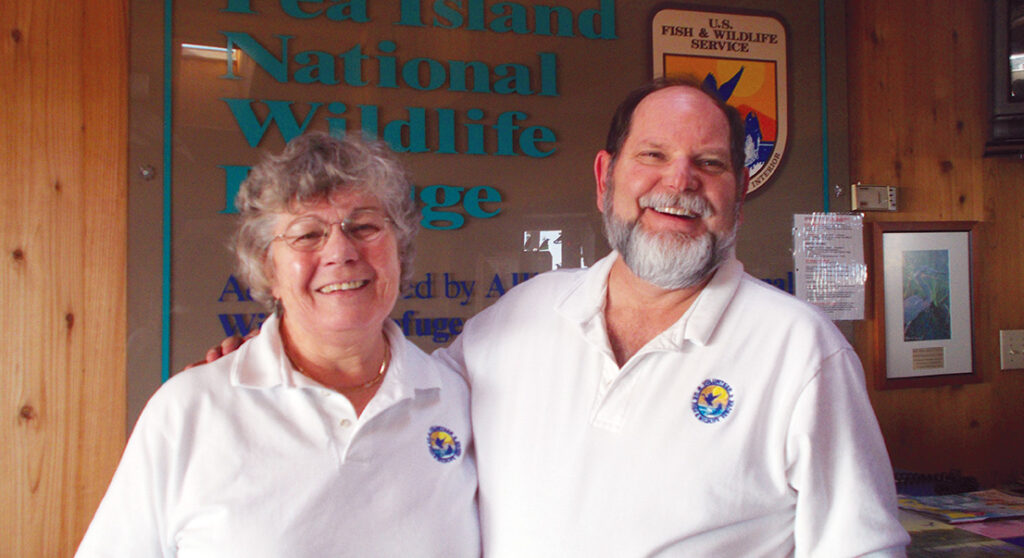 State and Local Parks
Every state park and many local parks rely heavily on volunteers to maintain facilities and provide service to visitors.
For example, Idaho State Parks works with nearly 400 volunteers every year. They perform maintenance around the parks while others serve in interpretation or special programs by giving nature talks and leading nature walks. Volunteers also staff museums and visitor's centers where they operate gift shops and take reservations.
Volunteers are asked to help at least one month, but full season work is available. Workampers put in 20 to 30 hours a week, but get a full-hookup RV site and an annual pass for free admission to other Idaho state parks.
More information is available at www.parksandrecreation.idaho.gov.
The Maine Forest and Logging Museum is reminiscent of an old logging camp just outside Bangor, Maine. It's a low-key position where Workampers keep the grounds clean and a gift shop open while other volunteers demonstrate equipment and explain how it would be used in logging operations.
For more information, visit www.maineforestandloggingmuseum.org.
Elings Park in Santa Barbara, Calif., uses volunteer Workampers to set up for weddings, control lights at sports fields, check guests into the tennis center, collect money for parking on weekends, and to patrol through the park to ensure everything is clean and in good working order.
The private park is open year-round, but relies on Workampers more in summer months. By donating 25 hours per week, often on weekends, volunteers receive a free full-hookup RV site very close to the Pacific ocean. Workampers must make a six-month commitment.
No special skills are needed, but Workampers who have gardening or farming experience will be able to help with special projects in the future, and with taking care of 250 oak trees or 3,000 coastal scrubs.
More information is available at www.elingspark.org.
Workamper Experiences
Several Workampers described their experiences during podcast interviews over the years, such as:
John Swinford takes advantage of his military pension to volunteer for different parks. Somedays, he's mowing the lawn and painting. Other times he uses heavy equipment or makes electrical and plumbing repairs. John's versatility enables campgrounds to rent equipment for him to use on special projects normally requiring outside contractors to complete.
Nina Delk worked at the Georgia Veterans State Park as a host aboard the SAM Shortline Excursion Train. Nina would hand out brochures, sell tickets, answer questions, and fix or serve lunch and snacks. Passengers sit in air conditioned and reconditioned 1949 vintage railroad cars while the train visits quaint towns, including Plains, Ga., the home of former President Jimmy Carter.
Ashley Logsdon, her husband and three daughters, had a goal to volunteer at every state park in Florida. Her animal-loving children got to evaluate sea turtle nests as well as take turtles to a hospital and release them later. They also rescued multiple birds and took them to a sanctuary. Rangers would allow the children to follow them around and assist with their duties.
Workamping is always a great experience with many wonderful memories. Consider putting your skills, abilities and friendly demeanor to work as a volunteer. You'll make a difference and bask in the appreciation of a grateful staff.
---
Thanks for reading the Gone Workamping blog from Workamper News. Join Workamper.com today to see all the new job opportunities for RVers, as well as the training and resources to confidently find the right Workamping job for you – easily and securely.