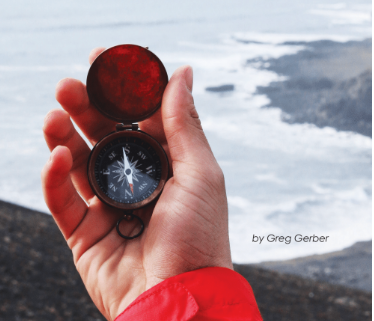 This week's blog is from the March/April issue of Workamper News magazine. This is a great issue because it focuses on resumes and has some great resume tips from an experienced Workamping couple.
This article comes from an issue of Workamper News magazine. COPYRIGHT by Workamper News. IT IS A VIOLATION OF U.S. COPYRIGHT LAW TO PUBLISH, POST, BROADCAST OR PHOTOCOPY ANY PORTION OF THIS PUBLICATION.
---
by Greg Gerber
Workamping is an attractive lifestyle for many people, and it appeals to folks of all ages and backgrounds.
Most people generally follow the same path, or lifecycle, as they move from the dreaming stage to the doing stage. After a while, they become veterans and ambassadors.
Dreaming of a Better Life
It's rare to encounter someone who doesn't dream of getting an RV and enjoying a life of adventure and travel.That's why RV shows are so popular. Thousands of people traipse through displays as if something is tugging at their hearts, enticing them to come alive and take a risk.
But, there are sooo many unanswered questions that the idea seems overwhelming, if not impossible.
Do we get a motorhome or fifth wheel? This floorplan is enticing, but is there enough storage space to support us for a year?
If we get a motorhome, what kind of car should be towd? If we get a fifth wheel, how big of a truck do we need to safely tow the RV? What kind of equipment do we need to tow anything?
Is the RV a good deal or are we buying a lemon?
What do we do about health insurance?
How much will it REALLY cost us to be RVing full time? Can we even afford to do it?
Will we be able to live in 400 square feet-and remain married?
How do we educate our kids? Where do they sleep?
What cell phone service is best for coverage and Wi-Fi connectivity?
What essential tools do we need to fix things that break?
Are emergency road service, extended warranties and separate RV insurance really necessary?
Can we work from the road? What kind of jobs can we do? Is it better to run a business?
Do we remain residents of our current state, or is it more advantageous to have domicile elsewhere?
What do we do about mail and banking?
How can we do this safely?
Workamper News is especially helpful for dreamers because of the vast network of experienced RVers who belong to the organization. Dreamers are not likely to encounter anything that dozens of other people haven't already faced – and either written or made a video about.
Dreamers can connect with resources to get any question answered, then help them formulated a plan and a budget to comfortably achieve their goal.
Unless they're financially independent, dreamers need help finding not only a job, but the right nob – a job they'll enjoy because that's part of the adventure.
It can take a few months to a few years until people are comfortable enough with their decision to hit the road. Then, the adventure really begins.
Living the Dream
Once they've finalized their plan, it's time to hit the road for an adventure of a lifetime.
They've filled their RV with everything they think they'll need for their trip, but soon realize they brought too much stuff. Dream-makers are still learning, but often through experience. I know I did.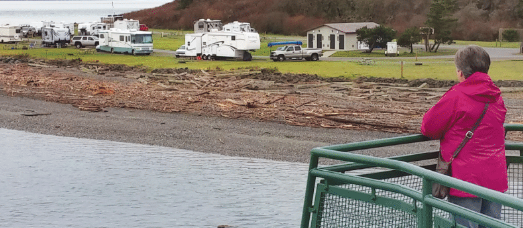 For example, I discovered that is is impossible to backup a motorhome while towing another vehicle. I learned that by following a semi-truck off a backed-up interstate onto a dead-end frontage road in the rain, the semi could back up. I had to unhook, engage in a series of Y-turns to get my RV pointed in the right direction and then hitch everything up again.
I also learned the hard way that you don't ever unhook your towed vehicle while it's on an incline without first putting it in park.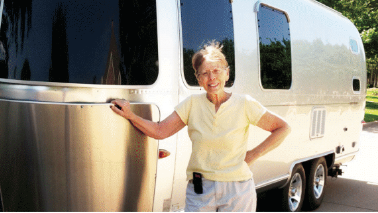 When dream-makers, encounter an unexpected repair, they'll wonder why they ever attempted this crazy lifestyle in the first place. Then, the next week, they'll wake up to a family of bison roaming through their campground and they'll have their answer. The magical moments outweigh the bad.
It takes almost a year of full-time RVing to settle into a routine. The gas station they're at sells propane! It's better to top off the tank than run out later. They're moving in a few weeks? Maybe it's time to get the mail one more time and make sure reservations are in place for the next destination.
They've either worked jobs they've really enjoyed, or have decided to give something else a try. They've started making friends online and off with other nomads.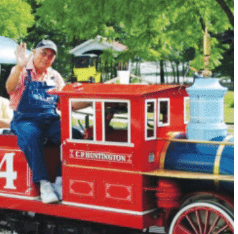 They've talked with other RVers about their experiences and want to visit those places soon. But, there are already to many places to go and things to see. Will they ever fit it all in the plan?
Dream-makers are also learning about equipment to make their travel easier. "A-ha!" they'll proclaim and nod when they discover for themselves what people mean by porpoising – and what devices can prevent that.
Now that these folks have hit the road, their focus turns to making the most of every opportunity.
Many RVers start their journey fast, meaning they move quickly from one location to the other. Yet, they soon realize they miss a lot by moving too fast, so they strive to slow down.
They'll talk to an RVer who has a friend who knew a guy who worked this fabulous job right in the area they're planning to be next year, so they apply now.
They learn from the experiences of others about out-of-the-way places to visit that most tourists seems to miss. They are deliberate in their planning, preferring to keep surprises to a minimum.
Dream-makers fall in love with the RV lifestyle so much that they can't help but tell others about it.
Sharing the Dream
After a few years of Workamping, people usually approach a fork in their journey.
Some take the next exit and leave the lifestyle entirely. They may keep their RV and continue taking vacations with it, but they give up the full-time aspect of the adventure.
They are thankful for the memories they've been able to experience, the many places they've been able to visit, and the new friendships they have forged over the years. They are very glad they took the risk and are grateful for the adventure.
They only wish they had started earlier, and veterans always encourage others to pursue their dreams of RV travel.
That was me. I never thought I would get the opportunity to live and work in an RV. Nor did I ever expect to visit 49 states – some multiple times – in just three years. The memories will remain forever.
Some folks miss living in a community. Some find a place so perfect that they decide to make it their new home. Some experience challenges in life which preclude their journey from continuing – which makes them even happier they embraced their dream when they did.
Other Workampers become addicted to adventure and opt to stay on the road many more years. As soon as they knock one item off their bucket lists, it seems they add two or three more. For them, they can't travel enough.
These folks become ambassadors of the RVing and Workamping lifestyle. They've had so much fun on their journey, they share all the advice they received and lessons learned along the way as a way to pay it forward by helping others.
Still, they are continuously learning and networking. They seek out opportunities to meet others and support each other's dream.
For them, the dream never dies.
---
Thanks for reading the Gone Workamping blog from Workamper News. Join Workamper.com today to see all the new job opportunities for RVers, as well as the training and resources to confidently find the right Workamping job for you – easily and securely.