This week's story is from the March/April 2018 issue of Workamper News magazine, which was dedicated to Solo Workampers! Diamond and Platinum members, you have access to this issue in the online archive at Workamper News.
This article comes from an issue of Workamper News magazine. COPYRIGHT by Workamper News. IT IS A VIOLATION OF U.S. COPYRIGHT LAW TO PUBLISH, POST, BROADCAST OR PHOTOCOPY ANY PORTION OF THIS PUBLICATION.
Workamping is the adventurous life of travel enjoyed by many Americans of all ages. Traveling from place to place, state to state, and job to job may not be a lifestyle made for everyone but for many it affords the adventurous life they have always dreamed of while providing a modest income to boot.
Many of today's Workampers travel as couples sharing both the responsibilities of each new job and the lifestyle responsibilities of trip planning, driving, and the not-so-glamorous tasks included with setting up their campsite. But, not all Workampers come in pairs.
Solo Workampers may not be what many Employers consider to be their ideal applicants, but the reality is that many amazing people do this alone! Some travel solo by choice or situation, while others are part of a pair where only one partner is looking to find work on the road. Regardless of the reasons, solo Workampers are flooding the roads in all types of rigs ranging from converted vans to Class As and they are ready for their next Workamping adventure!
Here are two interviews from the magazine with solo women that will encourage you to get out there and just go!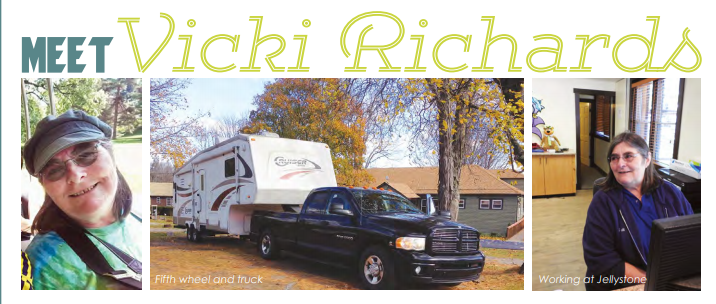 How were you able to embark on this new life of travel? What steps did you take?
I moved my fifth wheel to Indiana, where it was an easy 3 miles to the campground from my employer. I was immediately at ease living in the smaller space, able to come and go at will. As an avid photographer, I was immediately drawn to the lifestyle and enthralled with all the new sights I saw throughout the Continental US.
What was the hardest part? The easiest?
The hardest part was accepting that, initially, I would be away from my children and grandchildren for several weeks at a time. Laptop computers, the internet, and cell phones were not everyday items at that time, so calls to the office and my children were made through pay phones. The easiest was the fact that I was already a part-time RVer.
How many Workamping adventures have you had?
Since 2005, I have had 15 Workamping positions. I have worked in housekeeping, snack bar, restaurant, reservations, registrations and store at campgrounds. I also worked for Amazon Camperforce, taught water safety for the Corps of Engineers; have been a kettle driver for the Salvation Army; and even drove rental cars from an airport to the maintenance yard.
What do you do for money on the road?
Fortunately, I am paid for every hour I work, including overtime. My site and utilities are included, so most of my checks are banked. I also collect Social Security. Those two factors make it viable for me to Workamp for six months and travel as I wish the other six.
Do you feel that Workamping and the ability to travel extensively has changed you for the better?
Absolutely. My children say I am happier than they've ever seen me. The RV lifestyle keeps me focused with minimal needs. I can no longer collect 'things' the way I did when I had a sticks and bricks home. I think carefully before making any purchases. I love learning the histories of the areas I visit and am the go-to person at the campground for scenic drives and special events.
What advice do you have for new Workampers?
Do your homework. Take time to check out potential places you would like to consider, even read reviews, but do not let them overly influence you. Do whatever you can to understand exactly what will be asked of you and do not sign up for a position thinking you can change things. Places that have been in business for a long time know what works best for their establishments.
If you have pets, be sure you understand the pet policies and adhere to them. Don't be afraid to ask for help.
---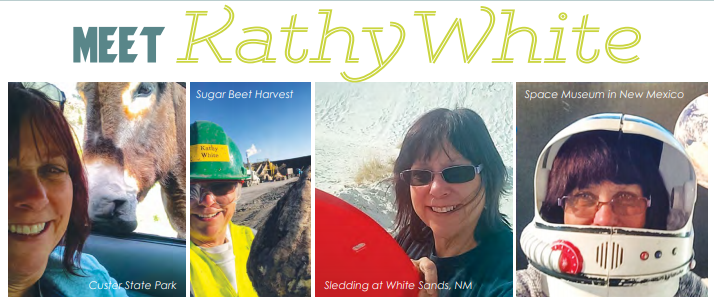 What inspired you to live in your RV?
I've always liked to travel, and I was never making enough money to travel anywhere great on my vacation time. A coworker vacationed in their trailer and she would always bring me her camping magazines. I saw something about Workamping in one of them. I found Workamper News and I started dreaming. I figured if I took to the road Workamping, I could travel as I worked.
How were you able to embark on this new life of travel?
I took some retirement money out early to buy my "vintage" RV. Tax wise it was not the smartest thing to do but I am glad I did it as I would never have had the money saved up. I would still be a dreamer.
What was the most surprising part of Workamping?
How many single women are fulltiming. My first Workamping job was with Amazon Camperforce and I met single women of all ages. It made me realize I wasn't too crazy!
How many Workamping adventures have you had?
I am on my 8th adventure. I have worked for Amazon Camperforce twice, in Campbellsville, KY. I have worked at KOA campground, Mount Rushmore. I have also worked for Bowlin Travel Centers in NM and traveled to ND this past fall for the Sugar Beet Harvest. Because the harvest went quickly, I was able to attend the Workamper News Rendezvous in Heber Springs, AR!
What else do you do for money on the road?
Aside from Workamping, I also enjoy making jewelry, and have recently received a small wholesale order for camp-themed earrings.
What advice do you have for new Workampers?
Don't put it off. My late husband die when he was only 47, and so t hat really taught me to not put off things. You never how much time you have on this beautiful earth.

Thanks for reading the Gone Workamping blog from Workamper News. Join Workamper.com today to see all the new job opportunities for RVers, as well as the training and resources to confidently find the right Workamping job for you – easily and securely.