When you live in an RV full-time, privacy takes on a new perspective, especially since neighboring RVs can be parked fingertip-to-fingertip at some campgrounds. Having good shades helps maintain that sense of privacy.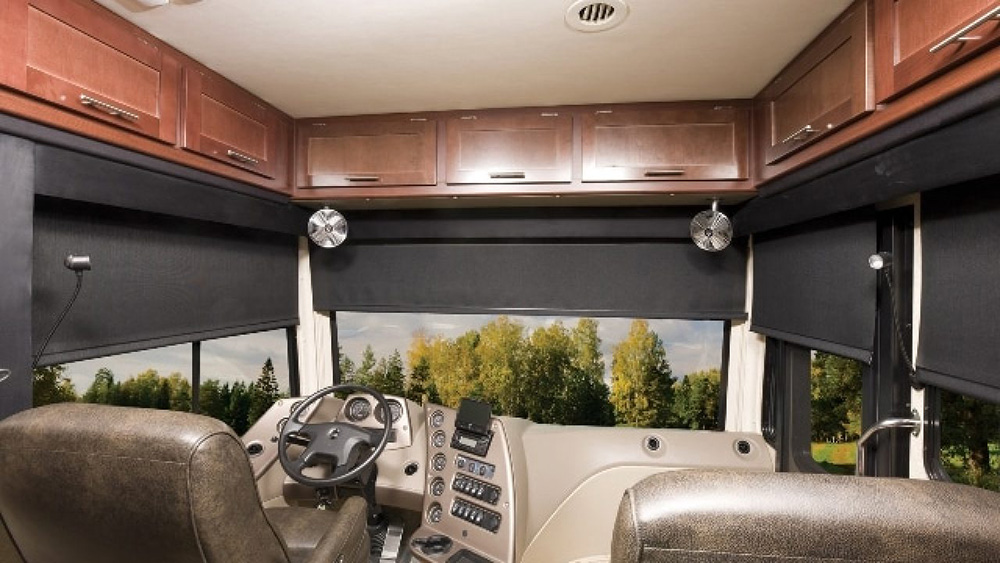 By Greg Gerber
Plus, depending on the type of shades you have installed on your RV, they can make for a more enjoyable living experience while saving money in the long-run by helping to keep the interior temperature cooler.
Many times, the original equipment shades that come with RVs are cheaply constructed and designed more for occasional use by weekend RVers and those who take short-term trips. Many motorhomes come with pull-around curtains that can be clumsy to put in position every evening and draw back in the morning.
Because full-time RVers give their shades a workout by opening or closing them several times a day, it might be wise to invest in a good set of shades. In fact, if you have the money, it's possible to automate the shades so they go up or down at the press of a button.
Types of shades
RVers have a variety of options when it comes to selecting shades for their rigs. For example, they can pull down, snap on or pull across like curtains. Some are mounted inside the RV, just like they are in sticks-and-bricks homes, while others are mounted outside the rig by using snaps, Velcro or even magnets. Some shades can be bought in retail stores and RV dealerships to fit standard window sizes. Others are manufactured specifically for a particular RV.
Some shades are made of solid material while others are pleated to provide a more upscale appearance. While shades can come in a variety of colors and even with fun designs or sports logos on them, most are sold in white, black or tan colors.
Day-night shades
One common type of device is a combination day-night shade. It is made of two different types of material on the same mechanism which can be raised or lowered to control the level of ambient light in the RV. For example, people pull up the translucent shades for day use or pull down the solid-color material at night to help block outside light.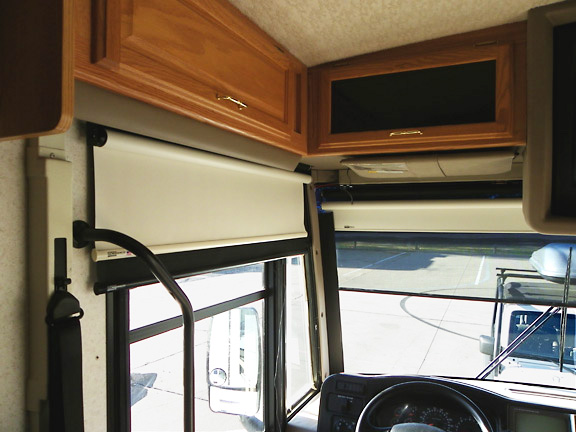 During daylight hours, the lighter, shear "day" shades allow light to enter an RV to make the room appear brighter. You won't be able to see out the windows, but you'll have more interior light for which ultraviolet (UV) rays are filtered. The same UV light that can do serious damage to rubber seals and can cause fabrics to fade over prolonged exposure.
When exposed to harsh sunlight for very long periods, even wood can actually break down and weaken structurally through a process known as photo-oxidation. At the very least, excessive direct sunlight can cause wood to discolor or crack.
At night, with day shades in place, people outside the RV may be able to see shadows dancing on shades from activity inside, but that is eliminated by pulling down the darker light-blocking "night" shades for maximum privacy.
Best of all, if you want to see out the windows or even have them open for fresh air, simply push the entire day-night shade device up and out of the way.
Solar shades
Solar shades may be one of the best inventions ever for RVers. These devices are constructed of material that works to block UVs rays and heat from coming into an RV. Although it is not as clear as looking through glass, the shade material is transparent enough for people to see out the windows. Yet you'll enjoy complete privacy because outsiders cannot see through solar shades during the day unless their faces are pressed against a window.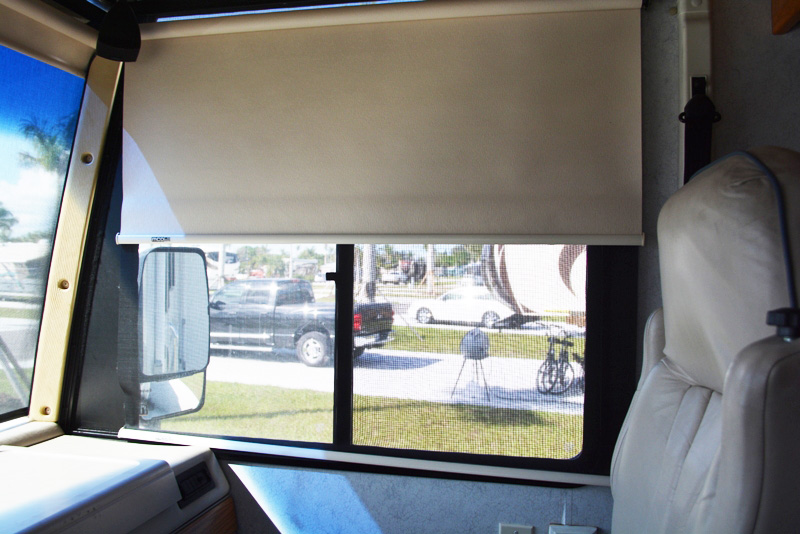 Nighttime is a different story. With solar shades in place and any interior light on at all, it's harder for people inside the RV to look out; however, others can view any activity inside the RV. For that reason, it's recommended that traditional light-blocking shades also be used at night.
Solar shades are built based on the amount of light people want to allow into their rigs. Ironically, a higher percentage means the shades are more transparent. For example, it's difficult for people to see through a 1% shade, while a 10% shade offers a more unobstructed view to the outside.
Just having solar shades will keep the RV's interior significantly cooler. You'll be able to feel a difference in temperature by placing your hand between the shade and the window glass, and then placing your hand on the interior side of the shade. You'll see why the RV's air conditioner will not need to work nearly as hard to keep temperatures cool.
Some RVers have custom solar shades created that attach to the RV's exterior by either snapping in place or using Velcro and even magnets to secure them to the RV. The snaps are glued to the RV's exterior, not screwed in place to eliminate an intrusion point for water.
The snaps, Velcro and magnets keep the solar shades in place while the rig is parked to ensure maximum privacy and heat control. When getting ready to travel, the shades are detached and placed in a storage compartment or inside the rig until arriving at a new destination.
Exterior shades also work to protect rubber molding around windows from excessive UV rays, which can lead to sun-rot and water incursion. One problem is that a ladder will be needed to attach and detach the shades each time they are used. Unfortunately, because they can be removed relatively quickly, exterior shades are a target for thieves.
Solid shades
Sometimes, RV owners will buy solid coverings for the windows that are affixed when the RV is parked at a campsite or stored for the winter. In that case, the snaps play a dual role in attaching solar shades for summer use or solid shades for winter coverings.
Because they attach snugly to the RV's frame, these types of weather-proof shades work to keep moisture from leaking into the RV through the window seals. The window coverings are simply placed in storage when not in use. They are ideal for winterizing an RV on private property, but the shades are targets for thieves at public storage lots.
Folding shades
A relatively new product allows RVers to attach shades either to the door window or to a skylight to control the amount of light coming in.
Often connected by magnets or Velcro, the devices fold to create different-sized openings. That can be helpful to block the sun temporarily as it rises, sets or moves across the horizon.
Folding shades can also be used to cover the large front windshield of a motorhome. The are stored in a convenient package, then unfolded and held in place behind the front windshield by the visors, just like sunshades are attached to car windows.
Roller shades
These shades have been used in sticks-and-bricks homes for many years and RVers have found them to be a very versatile feature to have as well.
Some RVers will install two rollers on each window. The unit closest to the window will have a solar shade on it, while the interior roller will control the solid shade. They are raised or lowered as needed. For example, if you have a neighbor three feet from your RV, simply roll down the shades on that side, while keeping them up in the rest of the rig.
Some RVers reduce hassle by keeping the solar shades lowered at all times and then roll down solid shades at night. They can also save money by installing solar shades on rollers and using curtains to provide privacy when needed.
Motorized RV shades
When I was full-time RVing, I had automatic roller shades installed on my motorhome. Custom manufactured by MCD Innovations in McKinney, Texas, this was probably the best single enhancement I made to my RV because I benefitted from the installation every day.
MCD shades are not inexpensive. Each shade must be hand-constructed to match the window's specific measurements. For example, my motorhome's windshield was slanted and wider on the bottom than it was on the top. The shades had to be installed so they would cover all the glass when lowered.
Installation was done on site at the factory in McKinney. RVers often spend a night or two staying at the on-site campground while the crew works to measure windows, construct the shades and install them on the RV.
The best feature of my MCD shades was the ability to push one button and watch as all the shades moved up or down in my living area, kitchen and driver's compartment. The second-best feature was being able to partially lower the windshield shades, even while driving, to help block out the sun better than the visor did.
I had traditional roller shades installed over the bedroom windows. Simply having shades covering windshields, rather than opening and closing a curtain to block the driver's compartment, gave my living quarters a more open feeling.
When I got my RV in 2014, MCD was one of the only places to get automated window shades installed. Several other suppliers have emerged since then to make customized shades available either through RV supply stores or online for do-it-yourselfers who are experts at measuring an adept at using tools to install the devices.
My system had a large hand-size remote control to operate all the shades at once or adjust a specific shade. Since then, some suppliers have developed technology for RVers to control their shades using an app on their phone or a tablet.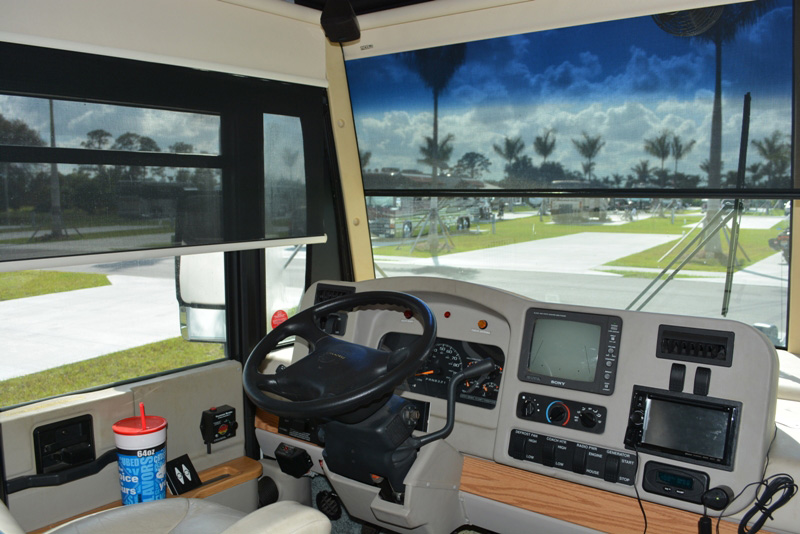 Cost
It is naturally more expensive to have custom window shades and solar panels created. My system sold for around $3,500 in 2014. That provided day and night shades for two large windows in the living area, the kitchen sink, outside door, the window in front of my desk as well as the motorhome's front windows and those on the driver and passenger sides.
People can save money by ordering shades for standard window sizes at a fraction of the price of having custom shades built. To plug in the gaps in curved or slanted windows, RVers simply use foam board cut to fit the specific space.
Good shades are worth the investment not only for personal privacy, but for comfort, cost savings and peace-of-mind. Treat yourself to an upgrade today. Here are some resources to help you get started:
---
Thanks for reading the Gone Workamping blog from Workamper News. Join Workamper.com today to see all the new job opportunities for RVers, as well as the training and resources to confidently find the right Workamping job for you – easily and securely.