Buying an RV is often infinitely easier to do than learning how to drive or tow one. For many people, driving a motorhome or towing a trailer is significantly more challenging than operating the largest SUV or minivan.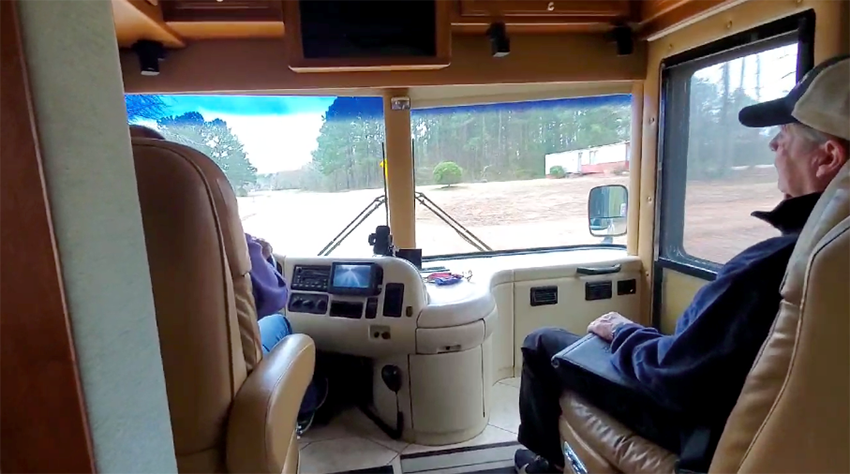 by Greg Gerber
Most people learn through trial and error. If they are lucky, they learn to operate their new RV without damaging it or causing an accident. There are many things drivers must know to maintain control of their rigs when passing on the highway, or when being passed, without experiencing lane shift. They must learn how to approach curves and exit ramps without tipping over, and how to keep the RV moving straight without drifting.
Helping people understand the nuances of safely driving and towing RVs is a passion of George Mayleben, the owner of RV Driving School.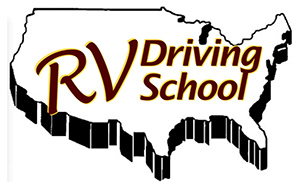 Founded in 1991, the school offers one-on-one driving instruction in nearly every state at some point during the year. George actually served as an instructor at the school for eight years before taking it over in 2011.
Today, RV Driving School employs 107 independent instructors who teach RV owners how to drive as well as offer lessons to people who operate commercial vehicles, like a bloodmobile or bookmobile.
"Given the safety problems associated with operating RVs, I don't care if it's big, small, wide, long, tall or heavy, the reality is that people need help," George explained.
"The average person really believes in his heart that this is something he should be able to handle, but he can't," George said. "They've never driven a vehicle with a long wheelbase, and there are intricacies associated with trying to center up in the lane or taking a corner without climbing a curb."
Types of Services
Every lesson provided by RV Driving School includes behind-the-wheel training. Everything being taught stresses that hands-on, one-on-one, live training with the RV owner is critical, he explained. The instructor sits in the passenger seat to provide directions, tips and advice.
"Typically, our lessons are completed in two four-hour days or two six-hour days," George said. "All the time is wisely spent in the RV or on the road actually driving the vehicle. The instructor critiques what the driver does and makes sure he or she understands safety issues associated with operating that RV."
The lessons often start in a parking lot where drivers can take time to get acquainted with their equipment without endangering anyone in the process. For example, the driver will practice backing the RV into an area marked off by large orange plastic cones rather than navigating around trees or utility pedestals.
"Some people have never driven anything larger than an SUV. A few folks may have driven a U-Haul truck on occasion. That's why we customize our training to take into account the experience levels of each student," George said.
"When it comes to towing an RV, we go over how to back it up safely without colliding the pickup's cab with the side of the fifth wheel, or get caught in a situation where the two vehicles are hopelessly jackknifed," he added.
Mountain Driving
People buy RVs to travel in hopes of seeing everything America has to offer. However, in order to do that, RVers are going to encounter mountains at some point. As a result, it is essential they understand the nuances of mountain driving.
"They absolutely need to learn how to decelerate the vehicle using air brakes, jake brakes, shifting gears or other strategies to control speed," George said. "The tendency by inexperienced drivers is to ride the brakes. That causes brakes to overheat to the point they become ineffective and creates a very dangerous situation."
Lessons go over what RVers need to do to prevent losing control and causing an accident or damage to their rig. Instructors also teach RVers how to use their air horns to warn other drivers. Many RVers have never heard their air horn or, if they have, they are startled by the sound and may be afraid to use it, he added.
Navigating Gas Pumps
Pulling into gas stations is a frequent stressor encountered by most RV owners. It's easy to get into situations where RVers have to unhook a towed vehicle to avoid crashing into a gas pump.
Not only is it an embarrassing situation, but it can cause a lot of problems for other drivers trying to get into or out of a gas station.
"Typically, it is an easy approach to get into a gas station, but getting out is a different story," George said. "There is often a 90-degree turn required at some point. And there are also substantial concrete or steel posts protecting the gas island. Hitting one of those can cause significant damage to the RV or towed vehicle.
"We teach RVers driving strategies to avoid those dangerous tail swings in the first place, and how to get out of those situations, when necessary," he added.
Partners Need Lessons, Too
George said it's essential that partners also take driving lessons. There are too many horror stories about the primary RVer becoming sick, injured or incapacitated, yet the partner has no idea how to drive the RV back home or to a campsite. Instructors also address how to stop the vehicle safely in the event of an emergency while the RV is in motion.
"Many times, one individual does all the driving while the partner sits in the passenger seat as an observer or navigator," he explained. "However, if the primary driver sprains an ankle, breaks a leg, or is just too sick to drive, then the partner needs to be very comfortable driving the RV."
From a safety perspective, it's often better to split driving duties among more than one person during long trips, he added. That's why all legal drivers in the rig need to know how to drive it.
"Take a big Class A motorhome, for example. Sometimes the partner doesn't have any idea how to even disengage the air brake system or fill the airbags," he added.
Patience Please
If there is one thing George wished every RVer understood, it is the need for patience. They have just as much right to be on the road as every other vehicle. Consequently, RVers should not allow themselves to feel rushed or pushed into situations which could cause more problems.
"Sometimes, I have to unhook and move my own vehicle out of the way in a proper manner," he admitted. "I know I am going to have horns honking at me and people may be gesturing in a not-so-polite manner.
"Yet, you're going to need extreme patience when driving an RV," George said. "In an SUV or the family car, you can often get away with a lot or you can easily maneuver out of the way."
For example, knowing an RV's long wheelbase requires a wider turn radius, an RVer may need to patiently wait until the right lane is clear of a car trying to sneak around at a light.
"Problems occur when drivers get impatient and do things in a hurry, which can have disastrous results," he said.
Finding Training
Signing up for lessons is as easy as visiting www.rvdrivingschool.com and clicking on the "Schedule a Lesson" button. A map appears showing the location of every trained instructor in the United States. Locations are divided into several categories:
Permanent – The instructor is based in that area all the time.
Temporary – These are often experienced full-time RVers traveling in specific areas for a few weeks.
Seasonal – These instructors make that area their home base for several months.
Rally – RV Driving School provides instruction during major RV rallies organized by manufacturers or associations. In those situations, several instructors may opt to attend the rally themselves.
Dealer – Some RV dealers have partnered with RV Driving School to offer instruction throughout the year.
By clicking on one of the colored pins, people can see who their individual instructors would be, get directions to the location, or schedule a lesson.
"The map is fluid because many of our instructors are RVers themselves, and they're traveling around the country," George said. "During summertime, we probably have more instructors in the northern states, who then shift to the southern states when the weather changes."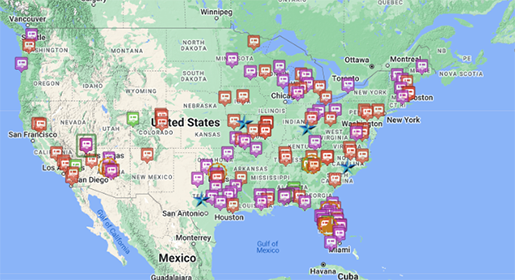 Cost for Lessons
The cost for lessons is consistent throughout the country. One person requires two four-hour lessons for $595.
Couples taking training together require two six-hour days at a cost of $895.
People who only want to learn how to back the RV can schedule a one-day, four-hour lesson for $325.
Upon completion, students receive a certificate which can be presented to insurance companies. Sometimes, getting RV driving lessons qualifies the student for a discount on insurance rates, George noted.
"Students must ensure their RV is fully operational and ready for lessons," he explained. "We do not have RVs available for people to use."
Some people who are contemplating buying a motorhome will rent an RV first to see if they can handle the equipment. Although RV Driving School will provide instruction, if a student has secured a date to rent the RV, George discourages the practice.
"Inevitably, the RV you can afford to rent is not the vehicle you end up buying," he explained. "The discipline and nuances associated with the rental RV are often different from the purchased RV."
He encourages people to wait until they commit to buying an RV and then find an instructor. That person can often meet the new owner wherever the RV is being picked up to begin lessons at that location. Just getting instruction usually ensures a new buyer is comfortable driving the RV, George said.
Refreshers are Helpful
It's also a good idea for people to take refresher training, especially when transitioning to a new type of RV, he added.
"They may have had a small travel trailer and just bought a Class A diesel pusher," George explained. "You may have basic knowledge regarding flushing toilets, hooking up to utilizes and using a generator. However, you still need to get acquainted with the safety issues pertaining to driving a larger vehicle.
"We are also seeing a lot of people downgrading from Class A motorhomes to Class Bs or even trailers," he added. "The equipment has different intricacies which require different driving strategies to operate it safely."
Become an Instructor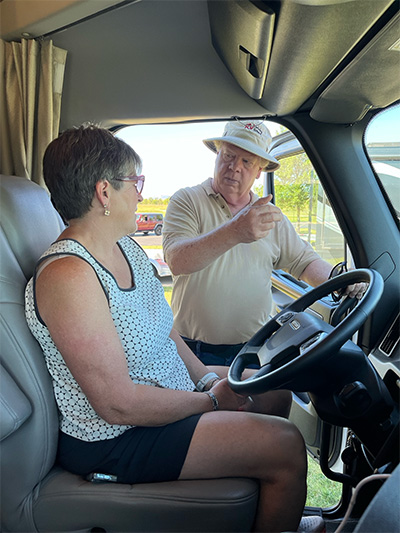 Experienced RVers with solid safety records can apply to become instructors at RV Driving School.
"I have two stipulations for people applying to be an instructor," George said. "First, they must have experience driving heavy vehicles. That way they know about challenges associated with driving vehicles having a long wheelbase.
"Second, they need RV experience along with excellent communication skills because we want people who have a real understanding of what it takes to navigate an RV," he added. "It helps that instructors have experience using a slider hitch in a pick-up truck."
An application to become an instructor can be found at www.rvschool.com/instructor-application.
For more information about the school, services it provides or to schedule a lesson, visit www.rvschool.com or call (530) 878-0111.
---
Thanks for reading the Gone Workamping blog from Workamper News. Join Workamper.com today to see all the new job opportunities for RVers, as well as the training and resources to confidently find the right Workamping job for you – easily and securely.