by Evada Cooper – Author of The RV Centennial Cookbook – Celebrating 100 Years of RVing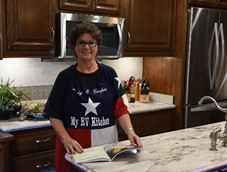 This article comes from an issue of Workamper News magazine. COPYRIGHT by Workamper News. IT IS A VIOLATION OF U.S. COPYRIGHT LAW TO PUBLISH, POST, BROADCAST OR PHOTOCOPY ANY PORTION OF THIS PUBLICATION.
Appliances – Tips & Tricks
Even though our RV kitchen appliances should come with an owner's manual, here are a few tips & tricks on how to make them work more efficiently for you.
Propane Cook Stove Ovens – By placing a cooking stone or unglazed tile(s) on the thin metal pan that is located directly above the flame allows for more even heat distribution which results in better baking. If you are using unglazed tiles, make sure that all the tiles are touching so they will be a conductor of heat. Be careful not to obstruct the air-vent holes located on both left and right sides of the metal pan.
Convection Microwave Ovens– Convection ovens use heated fan-forced air. Preheat your oven for 10 to 13 minutes to achieve the desired 350 F. Leave in place the circular plate that is in the bottom of your convection microwave oven and place the metal raised rack on the plate. By placing your food on the metal rack it will result complete cooking.
Refrigerators – The perfect operating temperatures are 38 to 41 degrees F. A rule of thumb to remember is ….for every minute the door is left open it will take one hour for the refrigerator to replace the cold that was lost.
By placing a battery operated refrigerator fan on the bottom shelf it will help circulate the cooler air that has settled in the bottom of refrigerator. You can find this fan at most of your RV accessories store.
Here is a recipe from her book by Misty Gustafson in Wooster, OH – She and her husband own a 5th wheel and enjoy the Workamper lifestyle.
Hobo Pizza Pie
Ingredients:

2 slices of bread
2 t. butter
1 T. pizza sauce
¼ C. mozzarella cheese
1 Hobo Pie maker (sold at Wal-Mart for $10)
Optional: Pepperoni, onions, green peppers, ham, hamburger, black olives, pineapple, sausage and mushrooms

Instructions:

Butter bread on one side (just like making a toasted cheese sandwich). Put the bread in the hobo pie maker with the buttered sides touching the metal. Fill with your favorite pizza toppings. Cook over the campfire. Keep an eye on it though, as they seem to cook quickly. They will look like toasted cheese sandwiches when done, but taste like wonderful, delicious pizza!

You can find a digital version of her cookbook in the Workamper News Store for only $12.95! Click here to purchase Cookbook
---
Thanks for reading the Gone Workamping blog from Workamper News. Join Workamper.com today to see all the new job opportunities for RVers, as well as the training and resources to confidently find the right Workamping job for you – easily and securely.