Most people think of budgeting the same way they think of dental cleanings. It's important, but not a pleasant experience. Yet, if wannabe Workampers take time to set and analyze a budget for their dream lifestyle, they may be surprised at how little it would take for them to start living it right now.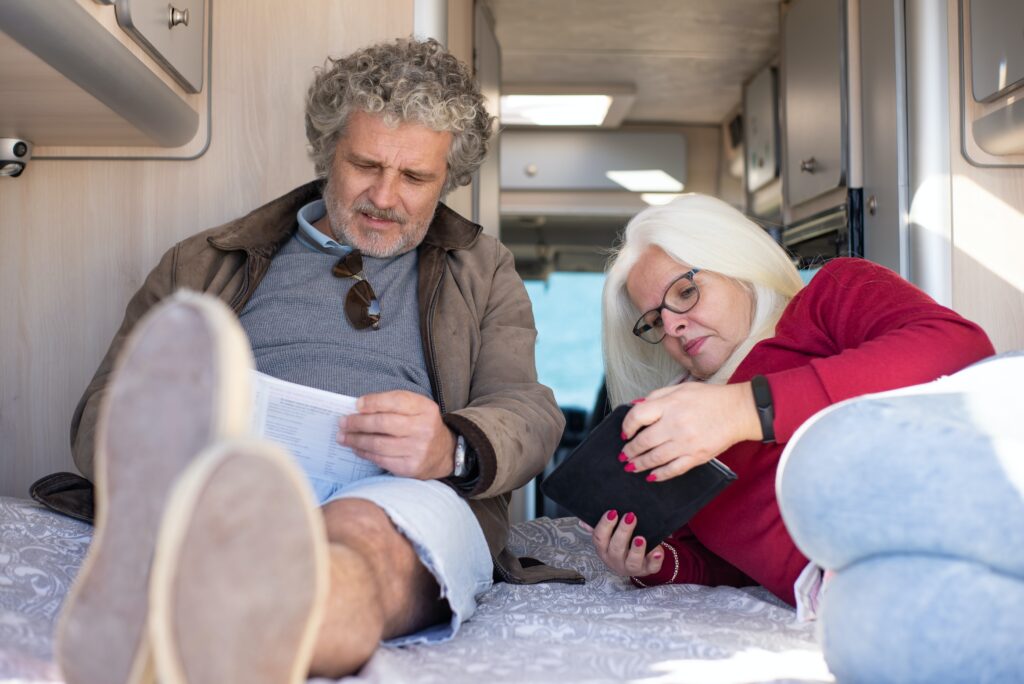 Written by Greg Gerber
Sean and Julie Chickery both spent more than 20 years in the military. When they retired, they had no idea where they wanted to settle down. So, they bought a 44-foot fifth wheel seven years ago and hit the road, although they later downsized to a 30-foot RV.
The Chickerys lead a budgeting webinar for RV Dreamer's Journey, a self-directed course to help people prepare for a lifestyle of full-time travel. The biggest benefit of budgeting is knowing exactly where money goes every month.
"I used to just make a list of our monthly bills, but we didn't know where the extra money went. We always spent it," Julie explained. "Finally, I decided to tell our money where it would go than wondering where it all went at the end of the month."
Step 1 – Record Expenses
The first thing people need to do is accurately record where their money goes every month. The Chickerys used an old-fashioned notebook to record every dollar spent. Some people use spreadsheet software and others use a check register program, like Quicken. The key is to know where every dollar goes.
Sean and Julie created a free spreadsheet for Workampers available at www.chickerystravels.com/budget-worksheet.
First, record bills you have to pay each month. These are things you don't have a choice about paying for, like insurance and car payments.
Step 2 – Record Income
Next, write down all your income sources. It may be income from a job, Social Security or a pension. If you operate a business, be sure to write down your actual income – not your "ifcome," such as "if I get this client, then I'll have $X."
If you are withdrawing money from your 401K or IRA now, be sure to include that amount, too.
"Start with your minimum income level," said Julie. "You can also set up a plan for those times when you have more income and determine where you want that money to go."
Step 3 – Factor in Extras
Now subtract your total expenses from your total income. If there is money left over, that's a great sign because it means you have covered all your required expenses. What's left can be used to build your lifestyle, such as streaming services, dinners out, activity admissions or souvenirs.
This is likely the most eye-opening aspect of budgeting because it shows where non-essential dollars go. The good news is you have more control over these items.
"You might also be able to get a free campsite as part of a paid or volunteer job," said Sean. "Make sure you're aware of that possibility and know what's coming in before you start your budget."
Step 4 – Consider Lifestyle
Workampers often have several camping options when an RV site is not provided as part of a work agreement. This is especially true of people who run businesses from their RVs instead of working at jobs.
The Chickerys used Lake Havasu, Ariz., as an example. People can stay on land owned by the Arizona State Land Department, which costs $15 for a permit to boondock for five days. Or, they can pay $10 per night for a shoreline site on lake property owned by the Bureau of Land Management. Camping at Lake Havasu State Park costs $35 for an inland site or $40 for beachfront sites. People can also pay $80 per night at a private resort where they could put a kayak in the lake right at the campground.
"All of those costs offer a different level of comfort. You'll have to decide what style of RV life you want to live," said Julie.
"It can be a rough transition for people to go from living in a four-bedroom house with access to all the water and electricity they could want, to camping on the desert and having to conserve resources," Sean added. "Consider an ease-in period, where you stay at some campgrounds and do a little boondocking in between. Make sure you have enough in your campground budget, if you find boondocking isn't for you."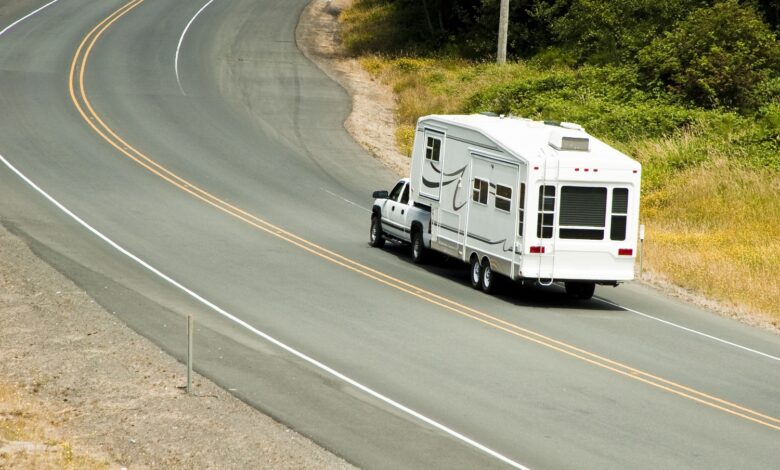 Step 5 – Type of RV
For Dreamers, selecting the type of RV to buy will have tremendous influence on their budget, whether it is a motorhome or a towable. The Chickerys suggested a few considerations:
Will you finance the RV? If so, what are your monthly payments?
If you will be towing the RV, you will need an RV payment and a tow vehicle. Factor in that monthly cost.
Regardless of the type of unit, you will need RV insurance. Sean and Julie recommended full-timer insurance because the coverage and cost is often better.
Don't forget about registration fees for the RV and tow vehicle. Some states set fees based on the RV's value while others offer a flat-rate annual registration. Some states will require a yearly emissions test in order to renew the plates. So, factor in a return trip home for that.
Step 6 – RV Maintenance
Preventative maintenance is a constant for RV owners because their units are bouncing and shaking all the time. Remember, RVing is like subjecting your home to an earthquake with hurricane-force winds.
You'll need a maintenance fund for common repairs or preventive maintenance. Create an emergency fund for unexpected repairs, such as an engine problem or slide-out issue that may require taking the RV into a service center for several days.
The Chickerys budget $3,000 per year for preventative maintenance for their RV and tow vehicle.
Step 7 – Fuel Costs
The first time people fill up a motorhome can be a real eye-opener. However, this can be controlled by lifestyle choices. Some people will drive to one location and remain there for several months, while others will prefer to move every few days.
Where you travel will also impact fuel costs. Prices are often lower in places like Texas and the Gulf coast states. However, California and Alaska prices can be considerably higher, even double the cost in other states.
The Chickerys average 11 miles per gallon with their diesel truck towing a fifth wheel, while motorhome owners often get 8 miles per gallon. Sean and Julie average $400 per month for fuel, but stay in one location an entire month before moving on. They once spent $1,000 in a single month by traveling from San Antonio, Texas, to Heber Springs Ark., then down to Galveston, Texas, and over to Orlando.
Another fuel expense new RVers often overlook is the cost for propane. For the Chickerys, propane cost is minimal most of the year because it is only needed for cooking and the refrigerator, when it's not plugged in to shore power. However, when the furnace has to come on, propane use greatly increases along with costs.
RVers also need to factor in generator fuel. If your lifestyle has you doing a lot of boondocking and you need to operate air conditioners, the generator can burn through a lot of fuel.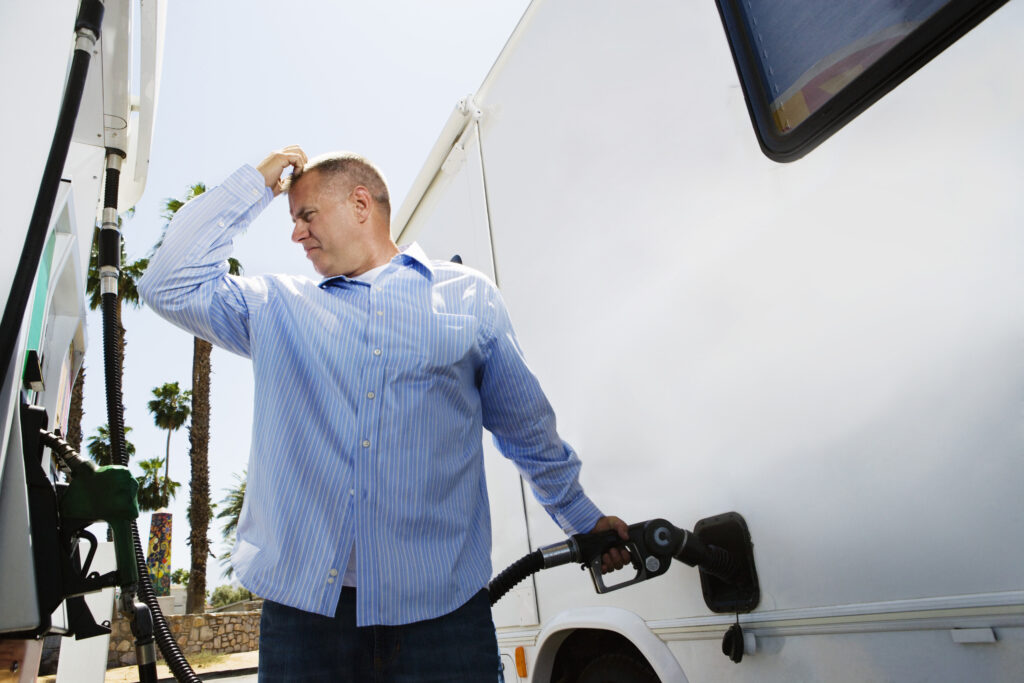 Reducing Camping Costs
Campground expenses are likely the largest recurring cost Workampers will face. But, there are a lot of options to cut back those costs.
Privately-owned campgrounds are the most expensive option on a nightly basis; however, they often come will full hookups and a bunch of amenities, like hot tubs and pools. Just the ability to hook up to water and sewer connections can offer a lot of peace-of-mind because you're not constantly monitoring holding tank levels.
The Chickerys cited costs of $65 per night for a resort in Tucson, Ariz., and compared it to $150 a night for similar accommodations in Key West, Fla. Campgrounds belonging to national chains can often cost more than mom-and-pop facilities.
Government-owned campgrounds are another option. National parks, state parks, and sites operated by the U.S. Forest Service and U.S. Army Corps of Engineers can often be reserved for $20 to $25 per night, depending on location. Many states allow people with driver's licenses from that state to pay lower rates than non-residents. Seasoned citizens and people with disabilities can often get lower rates, too.
However, government-owned campgrounds may limit stays to 14 days, especially during peak seasons. Some will allow the 14-day clock to restart, but only after you've packed up and left for a certain period of time.
Boondocking is often completely free because no services are provided. Some places do require a paid permit to stay for longer periods of time. Yet, those permits often cost less than a single night at a private campground.
Staying off grid can get costly when you have to pay for more propane and fuel to keep the generator running. While many boondocking sites have at least one dump station, the disadvantage is you must pull in the slides and drive somewhere to dump tanks.
Setting the Budget
Now that you have written down all your income and expenses, you have a better idea of how much money you'll need to stay in the black. You also identified some areas to save money. Now budgeting becomes a matter of setting priorities for spending.
"Your budget will not be perfect right away because you haven't established a spending pattern yet," said Sean. "You will miss a few expenses the first months as well. But, as you start tracking your expenses, eventually you will know how much you'll need for the month. Make sure your budget is balanced in that what's coming in is equal to or greater than what you're spending."
Julie recommends the EveryDollar budget tracking app offered by financial guru Dave Ramsey's company.
"With that, I can enter every expense right away. I can also set up a little cushion for fun money," she explained. "But if you wait until the end of the month to see how much you've spent, it can be frustrating to discover you overspent and don't have any money left to do something fun."
It's important to remember you can have an enjoyable RVing experience on almost any budget. Having a budget also improves decision-making regarding jobs to take and things to buy.
The Chickerys offer several financial planning tools and travel tips on their website at www.chickerystravels.com.
Workamper News has developed a comprehensive guide to help Dreamers learn all they can about the RV lifestyle and how to make it work for them. For just $29.95 for one year of access, Dreamers have unlimited viewing of 50-plus videos that are 30-90 minutes long about a variety of important topics. For more information, visit www.rvdreamersjourney.com